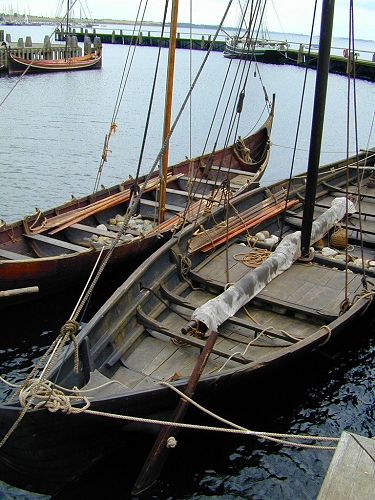 Viking Boat Reproductions, Roskilde

The Vikings set out on uncharted waters in boats exactly like this to explore, hunt, plunder, and relocate. They were sophisticated warriors, savvy traders, profit-driven mercenaries, and highly skilled survivors. They raided the lands in Russia (the root of the word "Russia" comes from Rus, a name locals gave to Vikings who settled in modern-day western Russia more than 1,000 years ago), fished in the waters off of Greenland, founded settlements on today's Canadian coast, and settled on the north shores of France, populating it with the Norse men--or "Normans"--who would one day head across the Channel and conquer Britain. At one point, they even sailed down the rivers of France and plundered Paris.

And they did it all ships like this. The boats were sturdy, highly maneuverable, extremely practical - revolutionary their time. Even to my ignorant eye, the ships are a model of elegant, efficient design, their wooden planks unmarred by metal, planks split and honed with Iron Age adzes, fitted together by strong, muscled men with a keen eyes and expert hands.