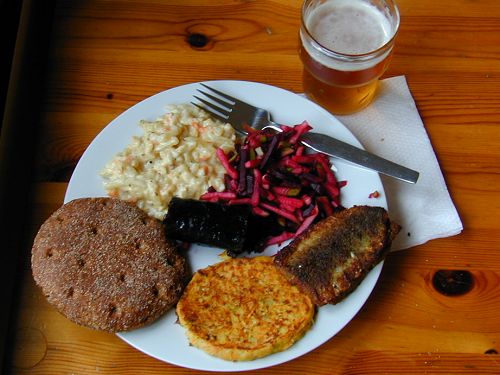 Finnish Cuisine

This plate contains, from top left clockwise, cheese and noodle casserole, beet and apple salad, breaded herring, a vegetable patty (my choice, not a traditional Finnish dish), rye bread, and in the center, blood sausage. The beer is Lapin Kulta, which comes in four different strengths, from 1.5 percent to about 7 percent.

The Finns are a hearty bunch, and their traditional foods are made with ingredients that can last through long winters or thrive in brief, glorious summer growing seasons that shoot by like a comet. There's plenty of meat and fish, pickled vegetables, cucumbers and tomatoes, Lappi cheese, rye bread, and root vegetables like potatoes, beets and rutabagas. Blueberries, strawberries and cloudberries are prominent in desserts, and lightly sweetened, spiced breads are perfect afternoon coffee accompaniments.

For years, my mother has been making a variety of Finnish food - cardamom coffee bread (pulla), Finnish pancake (pannukakku), fruit soup (sekahedelmakeitto), rye bread (ruisleipa), rutabaga casserole (maksalaatikko), cranberry air pudding (viispipuuro), rice-filled rye tarts with an egg-butter spread (Karjalan piirakka), and liver, rice, and raisin casserole (lanttulaatikko; definitely an acquired taste). And of course, there always was plenty of coffee to go with the pulla.