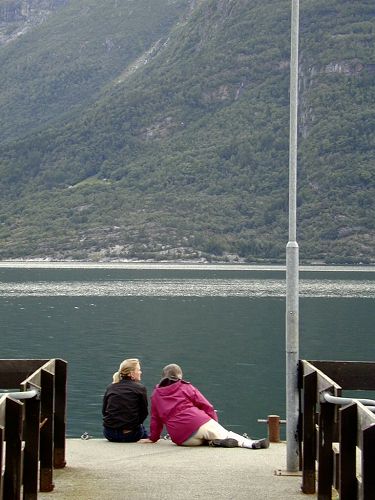 Quiet Contemplation on the Sorfjord

Before dinner at the Ullensvang Gjesteheim, we walked down onto the dock and watched the afternoon slip away, willing the fresh air to give us good appetite. This bed and breakfast was touted as an out-of-the-way treat by our guidebook, and so far it hadn't disappointed us. The house was decorated in beautiful Norwegian folk designs, with richly carved wooden furniture, checked curtains, a spacious sitting room for guests, and comfortable, neat rooms. The owner, a hulking, gruff, red-haired lumberjack of a man, checked us in, and invited us to have dinner downstairs.

The smells from the basement dining room lured us down the staircase, where culinary diplomas and certificates lined the walls. in the dining room, dozens of commemorative plates from culinary competitions and special events lined the walls. Then the red-haired giant appeared again, this time in full chef's togs, to take our orders. The owner actually was a highly skilled chef who had decided to step out of the culinary rat race and open a bed and breakfast with his wife on a fjord.

Sitting in that warm, cheerful dining room, eating tender, flaky salmon in cream sauce washed down with bitter Norwegian beer, we silently thanked him and his wife for Ullensvang Gjesteheim.