Post Eleven - To Spain
---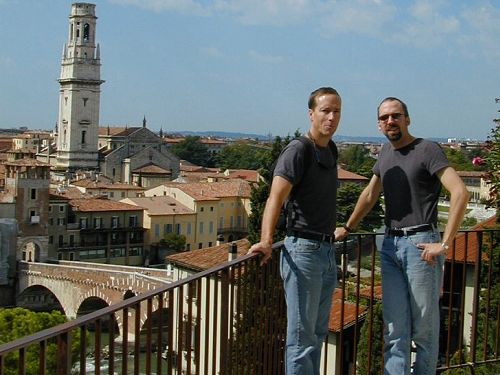 Twins

Julia and Karen were snickering as they snapped this photo of Matt and I. Apparently we had dressed alike that day and they found it amusing. Of course, when two men wear the same thing they think it's cool (if they notice at all that is). When two women wear the same thing it's an entirely different matter.
---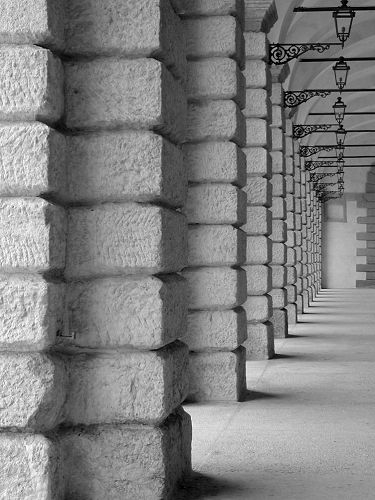 Symmetry

Wandering through Verona, this portico caught my eye so a snapped a couple of shots of it. I like the symmetry of this one.

I shoot all my images in color. Later, on the computer, I'll change an image to black and white if I think it makes it more interesting. In general, however, I do as little 'editing' of the images as possible. I'll crop and sometimes adjust brightness and contrast but every monitor is different so if I optimize the colors until it looks perfect on my laptop's LCD screen it may look horrible on a someone else's CRT monitor.
---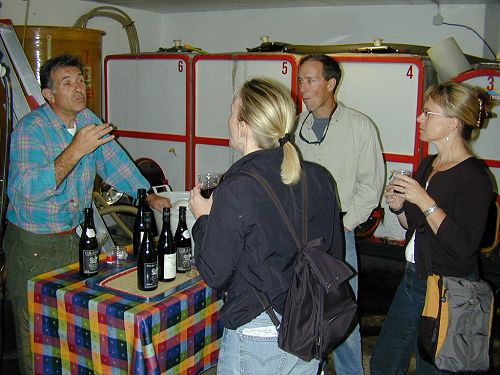 Winemaking

Near Modena, south of Verona, we visited an old castle out in the countryside. In the small town below the castle was a tiny winery - a true one-man operation. As we were walking by, the 'one man' drove up with a fresh load of grapes for the crusher. We got to talking with him (as best we could) and he took us into his shed to explain the wine making process. He also let us sample some of his wines. He made Lambrusco, a sparking, semi-sweet red wine perfect for summer picnics. We bought a few bottles and enjoyed them over the next couple of days.
---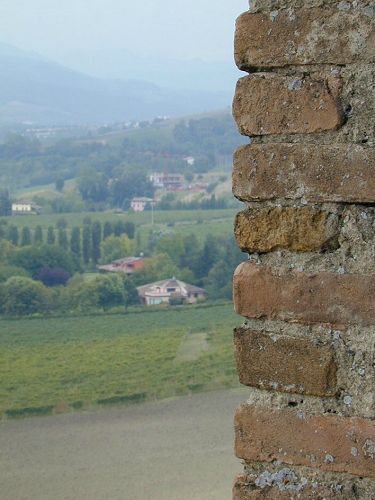 Modena Campagna

This is a view from the castle we visited outside Modena. While we were there we watched people harvesting grapes from the rows of vines you can see in the background.
---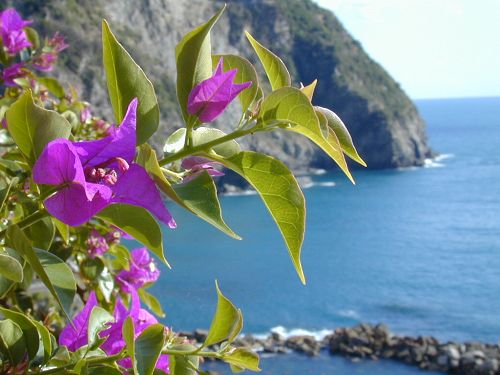 Cinque Terra

On the Italian Riviera, near the town of La Spezia, lie the Cinque Terra (or Five Lands). Crude paths cut into the cliffs connect the town and along with the train, make up the easiest way to journey between them. Fairly quiet, these towns do see their share of tourists (thanks to Rick Steves who first popularized them). They come to enjoy the scenery, the seafood, and the walks along the coast.

Karen and I were here during our trip through Europe in 1995 and we wanted to share it with Julia and Matt.
---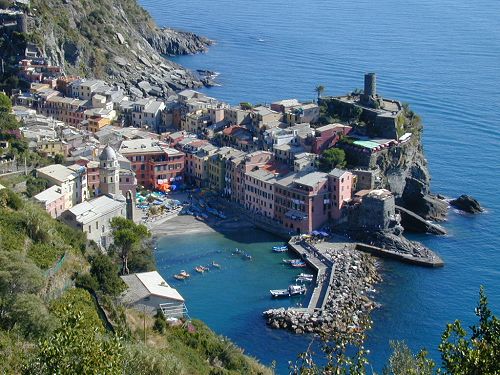 Riomaggorie

We found a nice two-bedroom apartment to rent in the first of the towns, Riomaggorie. It had a kitchen so we could cook some of our own food and a nice big living room to relax in. We spent our time here hiking between the towns, checking out the restaurants, and just taking it easy.
---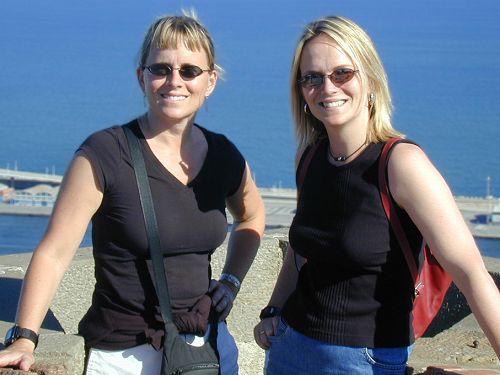 Sisters

Many people say Karen and Julia look very much alike. When they both do their hair the same way and wear the same style of clothes there is no mistaking they share the same blood.

This photo was taken in Barcelona after we arrived by ship from Genoa in Italy.
---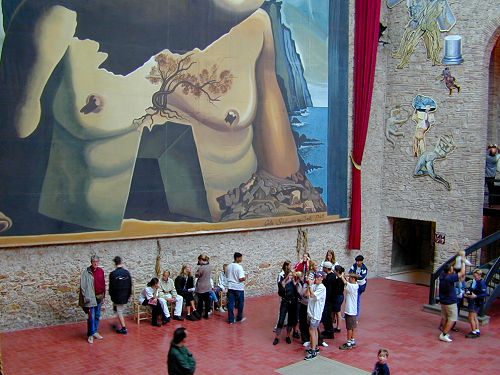 Dali House

Salvador Dali was a bizarre character (and he loved being thought of as such). During the later part of his life he returned from Paris to his hometown of Figueras in Spain, bought an old theater, and began converting it into a funhouse of statues, paintings, optical tricks, and collages. It was to be his grandest work. Walking through it you wonder where he came up with his ideas.

Someone once explained artists to me as people who lack the ability (or desire) to contain from the rest of the world, the myriad of random thoughts they have swimming in their heads. While the rest of us suppress it, artists can tap into this flood and exhibit it for the world to see. We appreciate art perhaps because we recognize in it our own subconscious thoughts. Ask someone their favorite works of art and you'll learn a lot about their soul.
---
Next Up: Catalonia

Copyright 2002
Scott & Karen Semyan