Post Twelve - Prague
---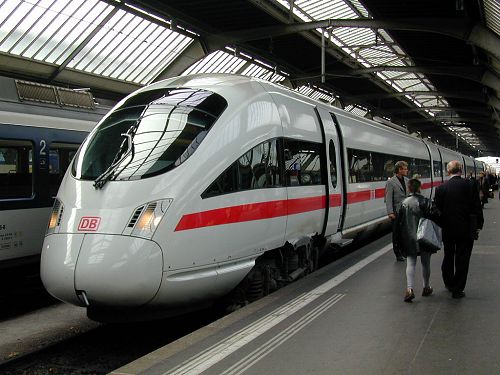 Deutsche Bahn

I left Sevilla on November 3rd - a day after Karen flew back to the U.S. It took me all day to get to Barcelona by train where I spent a quick night and then continued on to Bern, Switzerland. Bern was beautiful but I was there mainly to get my Russian and Chinese visas. The Russian visa only took half an hour (I had all my proper paperwork) but the Chinese told me their consulates only issued visas for citizens of the country where the consul was located (thus I would have to return to the U.S. to get my visa). Undaunted, I continued on to Munich for a festive night spent in the Augustiner Beer Hall. The next morning, after again being denied a visa at the Munich Chinese consulate, I continued on toward Prague.

The Deutsche Bahn ICE (inter-city express) trains are the finest I've ever traveled. Clean and fast, but fairly expensive, they were an appropriate way to leave the west.
---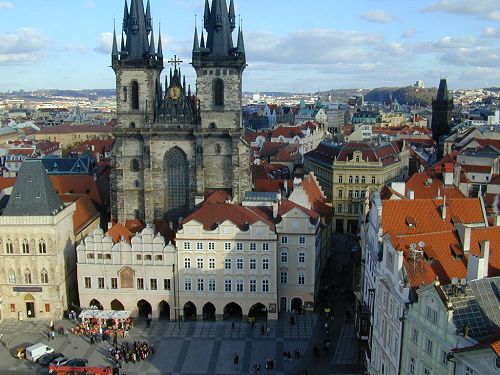 Prague

Prague was as amazing as everyone said it would be. It was November so there were few tourists and the chill of the approaching winter was in the air. Coming from Southern Spain, I was unprepared for the cold (and knew it would only get worse as I headed north). I bought a coat, hat, gloves, fleece jacket, and long underwear for a total of about $50. After Switzerland and Germany, the low prices in the Czech Republic were a pleasant surprise.
---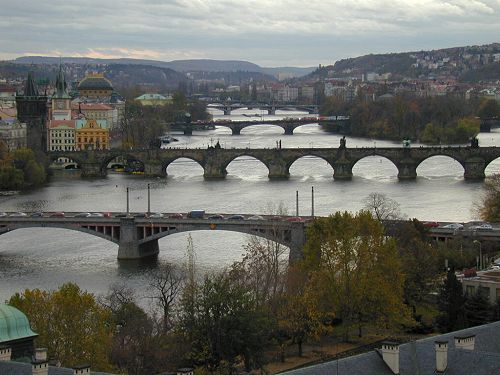 Five Bridges

I was joined in Prague by an old college friend Dave who lives now in Amsterdam. Always up for a travel challenge, he agreed to accompany me on my journey from Prague to Vilnius in Lithuania. He was a great companion and together we explored the city, from the heights above the Vltava River, to the depths of the Bohemian beer cellars.
---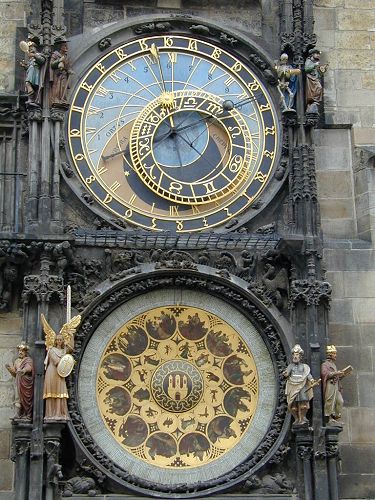 Time

Unfortunately, my time in Eastern Europe was short since I only had two months to get to Southeast Asia. I would love to have been able to spend a month in the Czech Republic alone but my timetable dictated a blistering pace. Someday I'll return with Karen and we'll take the time to really see the countries that I dashed through on this trip. This is the famous clock face in the main square in Prague.
---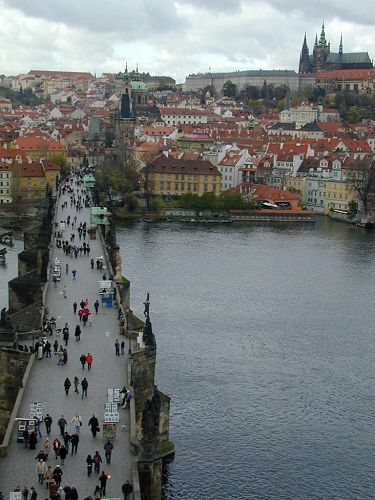 Hradcany Castle

The architecture in Prague is amazing. There are gothic cathedrals and castles and Art Nouveau opera houses and shops. Walking home from the pubs at night through the fog-filled alleyways, I felt like I was on the set of a Dracula movie. During the day, many streets with their flamboyant shops looked like Paris. It's a shame because much of the East looked like this before the war.

This is a photo of the famous pedestrian bridge with Hradcany Castle in the background.
---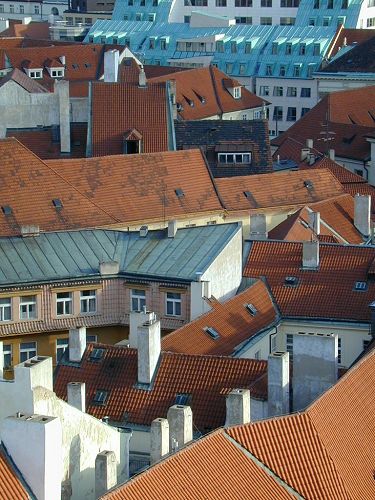 Czech Rooftops

Prague was full of bookstores, cafes, pubs, and fine restaurants and appeared to be quite a livable city. My heritage on my father's side is Czechoslovakian so perhaps that is why I felt so at home there.
---
Clock Tower Elevator

This is a frame from an elevator inside the clock tower. The original walkway to the top spirals around it. In Prague there were great photographic opportunities everywhere.
---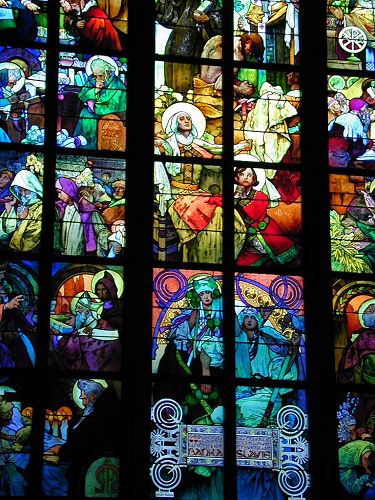 Art Nouveau Stained Glass

I've been through many churches in Europe but I've never seen an Art Nouveau stained glass window before. This window is located in the cathedral at Hradcany Castle - formerly the residence of the kings of Bohemia. If I'd had churches like this growing up I might have ended up a priest.
---
Next Up: Poland & Lithuania

Copyright 2002
Scott & Karen Semyan