Post Twelve - Mongolia I
---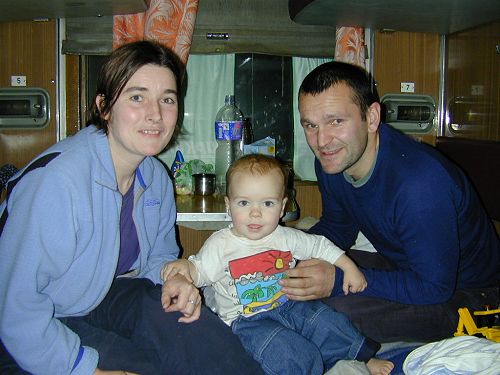 Irish Travelers

I met this couple on the two-day train from Irkutsk to Ulaanbaatar. They had flown into Helsinki and were making their way across Russia, Mongolia, China, and Vietnam with their 18-month old child, Fen. Previously I had thought I was doing a fairly grueling trip but they certainly topped me by bringing a baby in tow. Although it must have been a pain hauling around all the extra accessories, Fen made many friends on the train and people were constantly stopping by their cabin to visit. He was their ticket to getting closer to the culture then I ever could alone.
---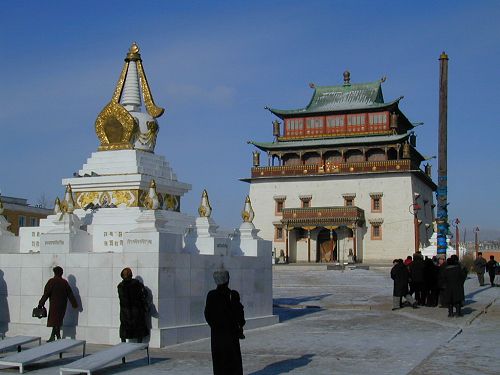 Mongolian Temple

We arrived in Mongolia in the morning and after I got settled in my home-stay I had a look around. The main square reminded me of Russia with its wide expanse and Soviet looking buildings surrounding it. After the glorious rein of the Khans, Mongolia was ruled by China then Russia. It was only in 1996 that a democratic coalition won a majority in parliamentary elections, ending 75 years of communist control. Although the city looked Soviet, I could tell I was nearing Asia when I saw the temples. Mongolians practice Lamaist Buddhism, and like Tibet, the Dalai Lama is their highest priest. Inside this temple, behind clouds of incense, was a 40 foot high golden Buddha.
---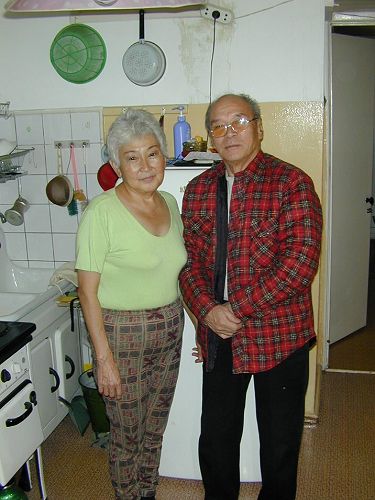 Mongolian Home-stay

This is Galia and Avi from my home-stay in Ulaanbaatar. Avi only spoke Mongolian, but his wife Galia spoke some German so I was able to talk with her about her country. They have a daughter living in Washington D.C. and are optimistic about the future. She said it was hard for the older people to deal with the changes but the youth were busily working, setting up businesses and many had gone to the U.S. for schooling. With their children grown up I had my own room with a television and cable. In the evenings, I watched the Discovery Channel, the National Geographic Channel, CNN, and MTV for the first time in many months. It was fascinating.
---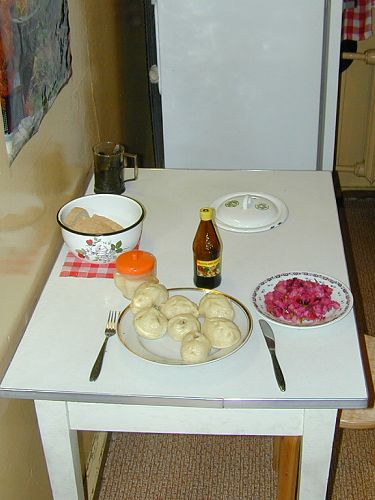 Mongolian Food

One night Galia cooked me a traditional Mongolian dinner. I had mutton dumplings, beet and cabbage salad, fresh baked bread, and tea (called 'Chai'). Galia made about 3 times the amount of dumplings pictured and it was only with supreme effort I was able to eat them all.
---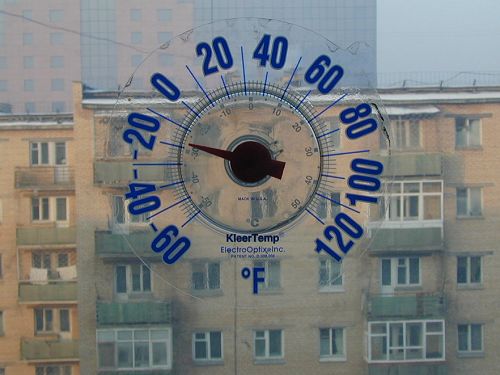 It's Cold

Mongolia was as cold as I've ever experienced. The thermometer read -20 F during the day and at night out of the city I'm sure it got to -30 F. When I told my host family I was going out into the countryside to stay in a ger tent, they looked at my thin coat, laughed, and then went to their closet to find me some warmer clothes. Fortunately, all their coats were ridiculously short on me (I really had plenty of clothes). When my ride came the next morning, I thanked them for their hospitality, bid them goodbye and assured them I would stay warm and wear my hat.
---
Ger Camp

We drove about 100 km out of the city to a tourist ger camp in one of the national parks. A ger is what we would call a yurt (the Russian word for them I was told). It has a frame of wood and is covered in thick felt. Roomy, warm, simple to set up and take down, and easily packed on a horse, they are the traditional home of the nomadic people that still make up much of the population of Mongolia.
---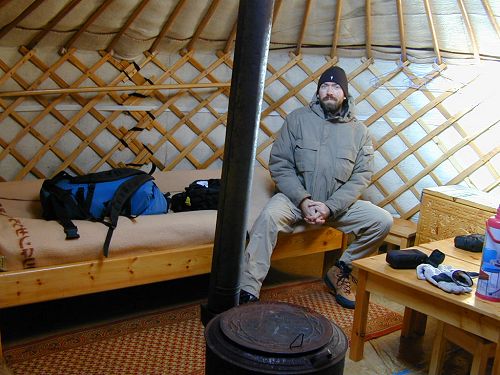 Ger Interior

The interior of my ger was fairly roomy and brightened by a covered hole in the roof. There were two beds, a table, a dresser with a mirror, and a wood stove in the center. It was quiet and cozy and with a fire going, fairly warm. At night, however, when the fire went out, the temperature dropped. I was told to empty my tea before going to bed or else it would freeze, breaking the cup. I slept comfortably enough in a down sleeping bag under a pile of blankets with only my nose sticking out.
---
Next Up: Mongolia II

Copyright 2002
Scott & Karen Semyan