Post Twelve - Mongolia II
---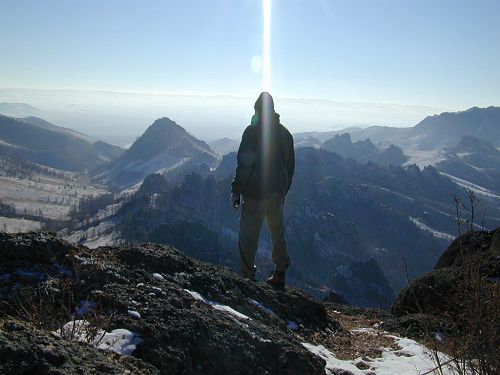 Solo Summit

Because it was so late in the season, I had the camp to myself. I spent the short days hiking in the hills that rose straight up from my front door. The rock was a type of eroded pink granite like you find in Joshua Tree National Monument that made for good climbing. Standing on a summit above the camp, I was in the most remote region of the world I'd ever been. Around me stretched thousands of miles of empty Mongolian countryside.
---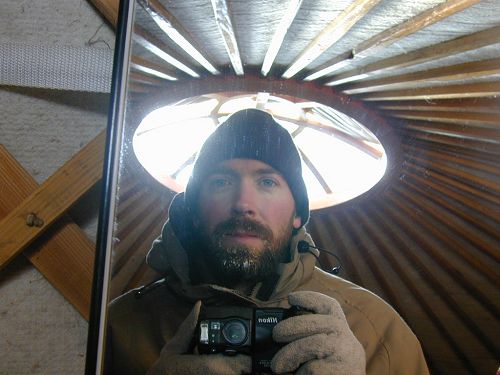 Frigid Self Portrait

It was pretty cold in my tent but with the fire going it was manageable. Although everyone laughed at the thinness of my coat and hat, if I wore all my clothing at once I was quite warm. It sure made my pack light.
---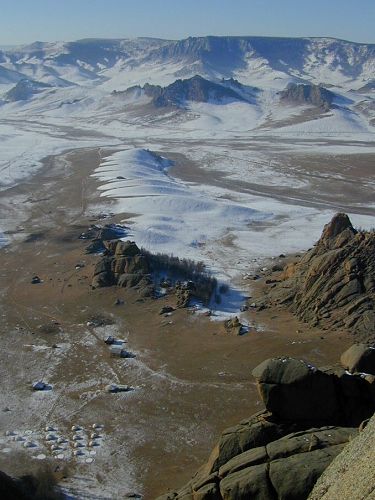 Isolation

My ger camp was not far outside of Ulaanbaatar but it felt like the end of the world. On the second day I realized why it seemed so silent. There weren't even planes going overhead. After being cooped up on trains for so long, I drank in the isolation like a tonic.
---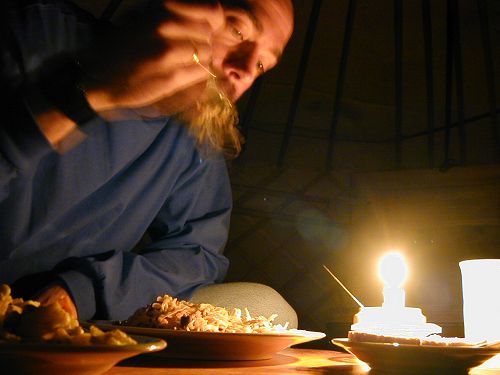 Dinner

There was a family staying near the camp who cooked my meals. The food was filling, hot, and usually made of some sort of mutton. After hiking all day in the cold, it was wonderful to return to my tent, build a fire, and wait for them to bring the food tray. One night I had mutton dumplings. The next was a type of rammen noodles with strips of mutton. Everything was served with tea and I even got a cookie for desert.
---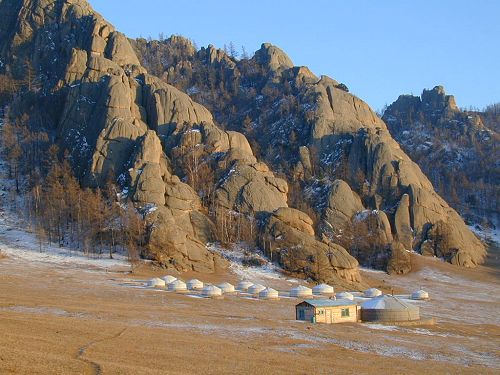 Endless Climbing

The rock jutted right up out of the camp. If you wanted, you could have belayed from your ger doorstep. There is great climbing to be done here for those willing to make the trek.
---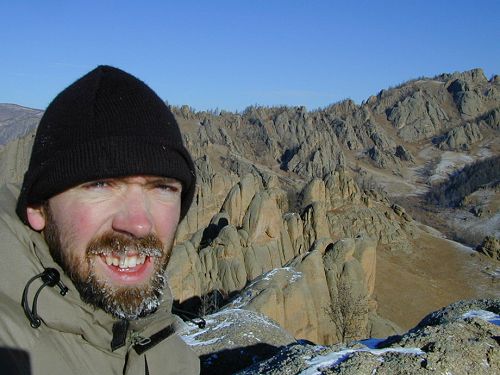 Snot-cicles

It was damn cold outside and as I trudged up the mountains, I blew out billowing clouds of steam. This steam condensed, then froze on my beard and mustache. When I came in from the cold I would have to painfully break it off or I'd drip all over everything. Kinda gross but I thought it was interesting enough to share.
---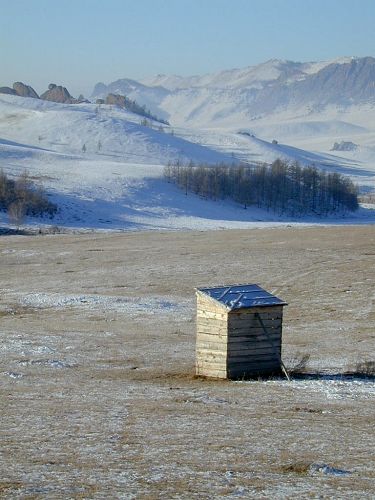 Loo with a View

This outhouse had one of the nicest views I've been privileged to enjoy. Unfortunately, it's a little hard to appreciate in chill of the early morning.
---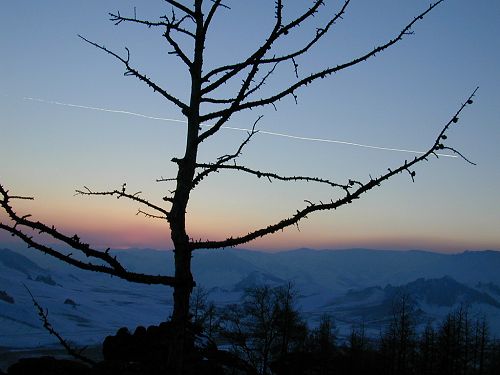 Mongolian Sunset

I was in Mongolia for only a short time but it made a big impression. I'm not sure if I'll ever return (there are so many places I have yet to see), but it makes me feel better knowing places like this still exist in the world.
---
Next Up: Beijing

Copyright 2002
Scott & Karen Semyan