Post Twelve - St Petersburg
---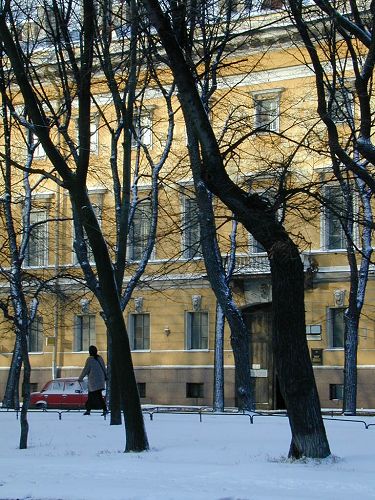 St Petersburg

For me, Russia has always been a mysterious country. Although its had a major impact on world history I'd never thought of visiting. Now, my route to Asia had me traveling the breadth of what is the largest country in the world. Only a few years ago it would have been almost impossible for me to get behind the Iron Curtain. Today it's still difficult. You need an official invitation from a Russian tour company and a detailed itinerary of all the places you plan to visit to get your visa. Because I needed my visa at short notice, I purchased an 'independent' tour from Passport Travel. My package included all my train tickets and home-stays in the cities where I stopped along the way.

When I arrived in St Petersburg, the person from the travel company met me at the train and gave me a ride to my home-stay. Driving though the streets I caught glimpses of beautiful buildings through the trees and wondered what I would find here.
---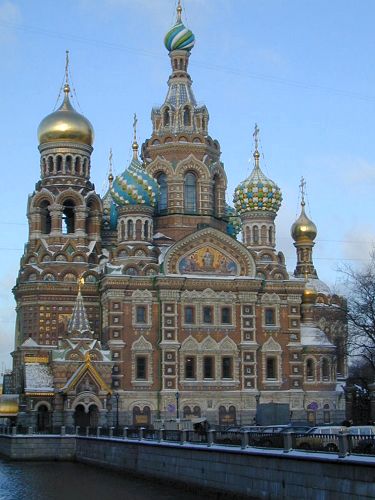 Opulence and Scarcity

St Petersburg has beautiful architecture. The Hermitage, built as the summer palace for the Tsars, is especially opulent. Looking at rooms filled with malachite pillars and marble floors, it's easy to understand why the starving peasants revolted. In other areas of the city, however, things were not so beautiful and the many years of communist rule show in blocks of gray apartment buildings. This is a photo of a Russian Orthodox Church with its trademark onion domes.
---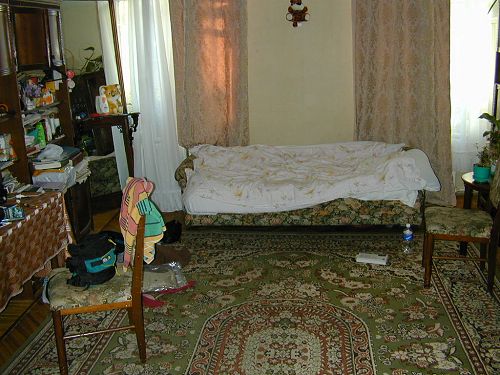 Russian Home-stay

I was interested in a home-stay because I wanted to see how the average Russian citizen lives. I also wanted the chance to talk with people about the many changes that have taken place in their country recently. Upon arriving at my home-stay, at first I was shocked at the decrepit exterior of the apartment building and the dark, unpainted hallway leading to the front door. Once inside, however I was pleased to find a cozy apartment and Tania, my smiling host. I was shown to my large room (pictured) and Tania immediately made me a filling breakfast, chattering away, asking me questions about my travels and life in America. I later found out why my room was so big - it's the parent's bedroom. When they have house guests, the guests sleep in their room and they sleep in the kitchen.
---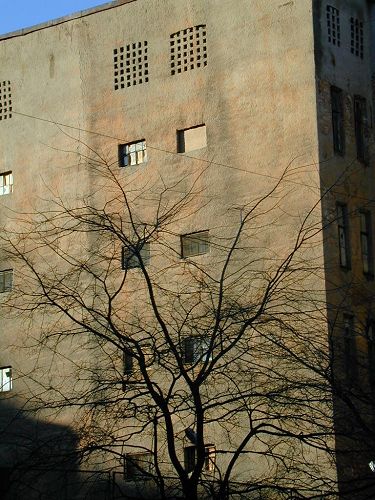 Soviet Apartments

These apartments were built in a time when the government guaranteed everyone a job and a place to live. Now, neither the jobs nor the apartments are guaranteed and many families have a hard time making rent and utility payments. They are pleased with their new freedoms but apprehensive about their country's ability to compete in the global economy after so many years on the sidelines.
---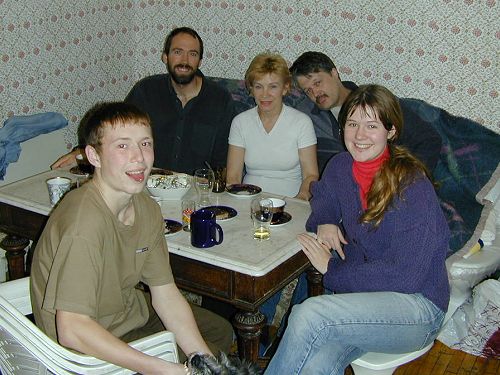 My Host Family

This is a photo of my host family in St Petersburg taken in their kitchen. The girl on the right is Andrea, a college student on an exchange program from the U.S. My host family gave me a great introduction to Russia and her people and they were a highlight of my trip.
---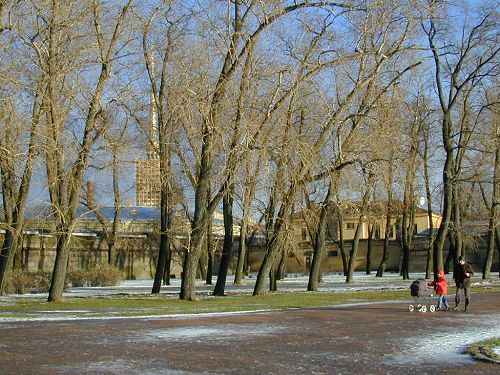 Winter

It was cold in St Petersburg. I had winter clothing now but my body was still used to the southern Spanish climate. St Petersburg is as far north as Anchorage and in November the sun does not climb very high in the sky. Apart from seeing the sites, just walking the streets was fascinating. In the park in the photo I met an old man walking with his grandson. He thought it was wonderful that I was visiting his country from America and conveyed his hopes that the U.S. and Russia would become better friends in the years to come. I shook his hand and heartily agreed.
---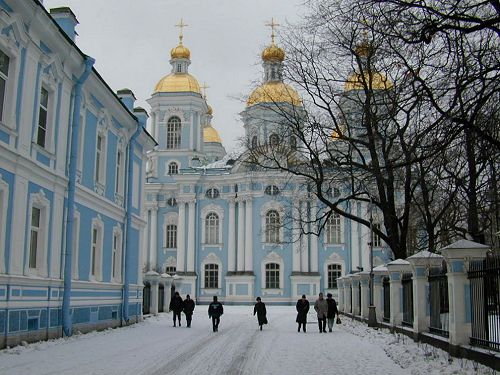 Icons & Idols

I finally got my visa for China in St Petersburg. While waiting for my passport to be processed, I walked to this church near the Chinese Embassy. Although it looks large on the outside, the interior is dark and crammed with icons (painted panels, usually of saints or religious events). In the Russian Orthodox religion, icons are seen as sacred and are an aid in contacting the represented figure. The Protestants saw this as idolatry and forbade it, though most Protestant churches still have crosses.
---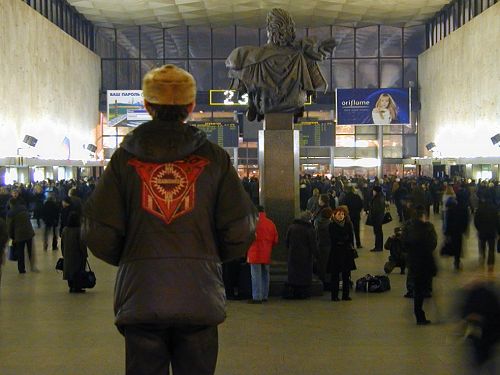 Train Station

After four days in St Petersburg, I took an overnight train to Moscow. While waiting for my train to leave I took this picture in the station. Supposedly this train is fairly dangerous, and my compartment mates made sure the door was securely shut and latched. I found the trains in Russia to be very safe. There one or two stewards per car and they keep a pretty close watch on things.
---
Next Up: Moscow

Copyright 2002
Scott & Karen Semyan