Post Five - Oaxaca
---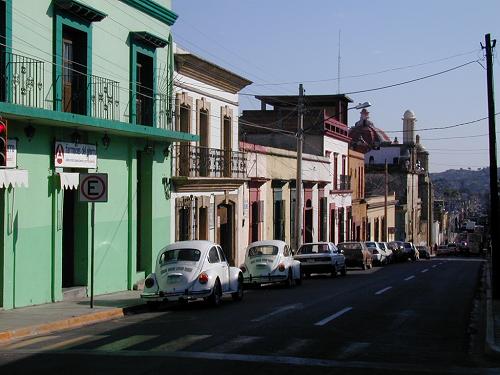 Oaxaca

Oaxaca is a large city, not large like Mexico City (there is nothing really like Mexico City), but large nonetheless. Our guidebook raved about Oaxaca. It is definitely on the gringo trail - we saw more tourists here then anywhere else in Mexico. Unfortunately, not all were on their best behavior so the locals seemed a little jaded with their town's newfound popularity. Being able to speak Spanish helped us immensely.
---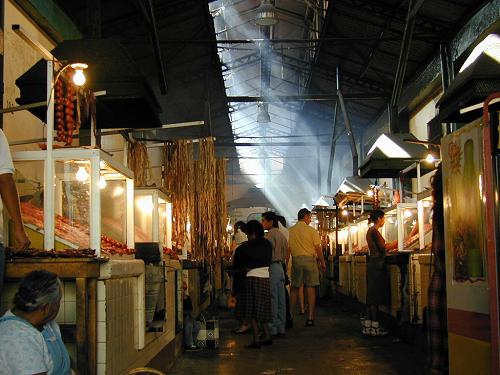 Meat Market

Everyone raves about the Oaxacan cuisine. The tamales are some of the best in Mexico (wrapped in banana leaves instead of corn husks) and, of course the molés are good (the sauce, not the animal). The street food was a little lacking though. It seemed there were very few taco stands and the ones they had prominently featured the head of the pig they were grilling up. In the market pictured, there were rows of vendors with different types of meat hanging from racks. You picked what type you liked and they threw it right on the charcoal grill for you. The air here was thick with smoke and it smelled pretty good (or pretty bad depending on how hungry you were).
---
Oaxacan Graffiti

We came upon this cool graffiti walking down a street in Oaxaca. I love the Aztec elements in it.
---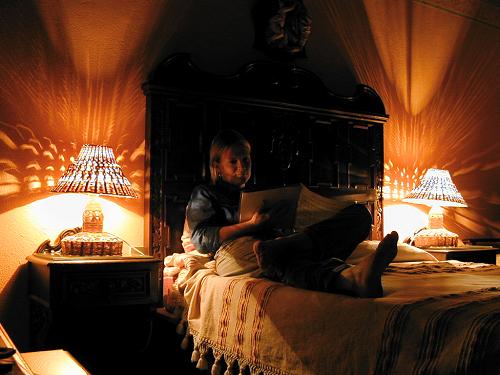 Casa Maria Luz

In Oaxaca we stayed in the home of Doña Luz Maria who offered us a large bedroom with a private bath and breakfast for $25US per night. It was nice to have a quiet place to stay because Karen's bug caught up to her while we were there. This is a shot of our room in the evening.
---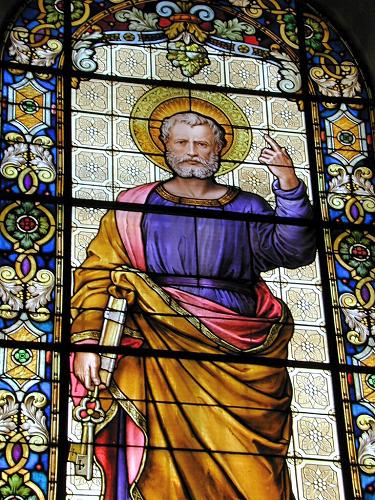 Stained Glass

There are great cathedrals all over Mexico and Oaxaca had a fine one. I spent an afternoon shooting photos in it. This is a section of a stained glass window.
---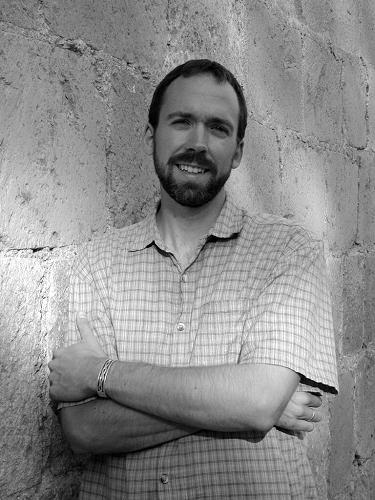 Me

Through my mother who is a teacher, I was put in contact with a woman who runs the Kalamazoo Public Schools newsletter, which is sent to all the homes in Kalamazoo once a month. She was interested in articles from former KPS students (I was raised in Kalamazoo) who were doing interesting things with their lives. We exchanged emails and she decided to put some of my writing in their paper. We took this photo of me standing outside the main cathedral in Oaxaca to go along with my first story. Notice the cool new silver bracelet from Taxco.
---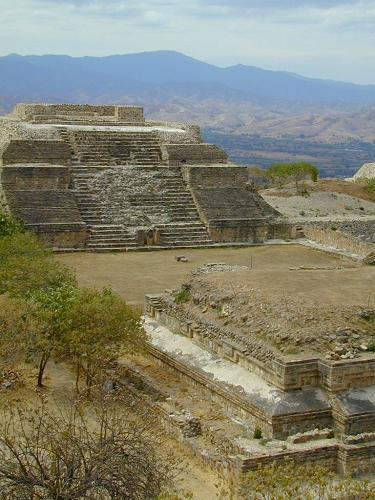 Monte Albán

Above Oaxaca are the ruins of Monte Albán. Founded in 400 B.C. it was the center of the Zapotec civilization for more then 1100 years. The Zapotecs had a basic writing system and a fairly accurate calendar. Monte Albán was the only ruin we visited on this trip to Mexico. I guess we were more interested in learning the language and culture of the people there now.
---
Next Up: Mexico City

Copyright 2001
Scott & Karen Semyan