Post Five - La Villa Nirvana & Taxco
---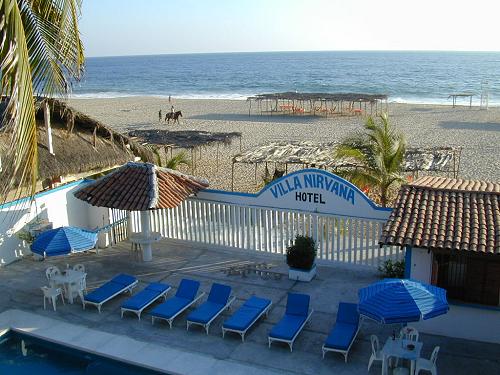 La Villa Nirvana

After 10 days in Zihuatanejo, we headed down the coast to go back to La Villa Nirvana - the place we stayed earlier in the trip. Their website needed some updating so we traded our services for food and lodging. Of course it wasn't all work. We also got the chance to relax in a plush setting. This is a shot looking out toward the water. You can see how close we were to the beach.
---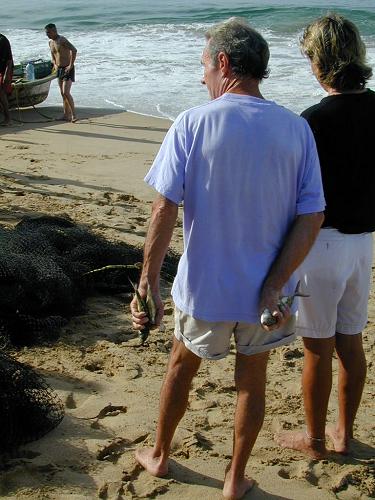 Daniel with Fish

One morning, the local fishermen pulled up on the beach in front of the hotel with their boat full of fish. According to Daniel, one of the owners of La Villa Nirvana, fishing is kind of a community project. When the boats come in, all the people come down and share in the catch. Here, Daniel has a couple of fish for lunch.
---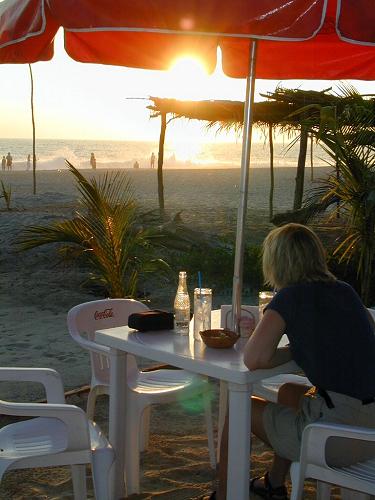 Sunset Dining

The first time we were in Pie de la Cuesta we really didn't try any of the local restaurants because we cooked most of our food ourselves. This time we didn't have a kitchen so we ate dinner in restaurants every night. Just down the beach was a great place where the tables sit right in the sand. We would wait until right before sunset to eat so we had a nice view while we dinned.
---
Empty Sand

We spent about 5 days at La Villa Nirvana, revamping their web site and just enjoying the pool and the beach. It was the low season after the holidays and we had the place pretty much to ourselves. This would be our last really restful period for a while. Feeling the need to see more of Mexico, from here we would be on the move until we returned to the States.
---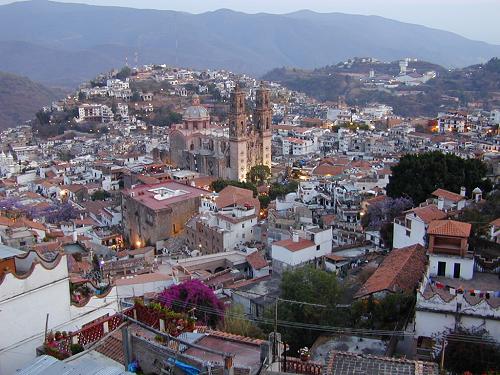 Taxco

Taxco is a small town between Acapulco and Mexico City. Formerly a silver mining area, it is now famous for silver work (mostly jewelry). We spent a couple of days here wandering the town and checking out the shops for gifts to take back home. We ended up buying our jewelry at a wholesale shop where storeowners around Mexico come to stock up. Like all formerly wealthy mining towns, they have some wonderful churches here. This shot was taken from the courtyard of one of them.
---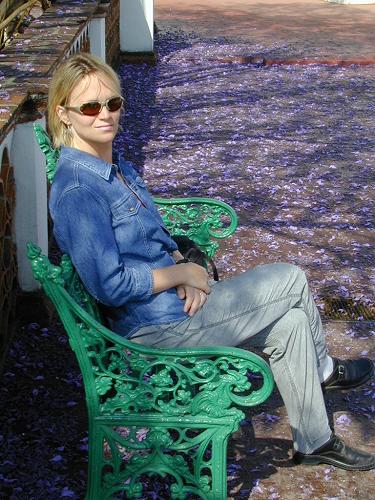 Karen

Both Karen and I were sick in Taxco. I had a bronchial infection (cured with antibiotics) and Karen picked up a stomach bug from an undercooked omelet that she only recently got over. In Taxco we stayed in a former convent. The rooms were huge and the rooftop had great views of town. There was a beautiful tree growing in the courtyard with purple flowers that would rain down whenever the wind blew. This is a shot taken on the rooftop.
---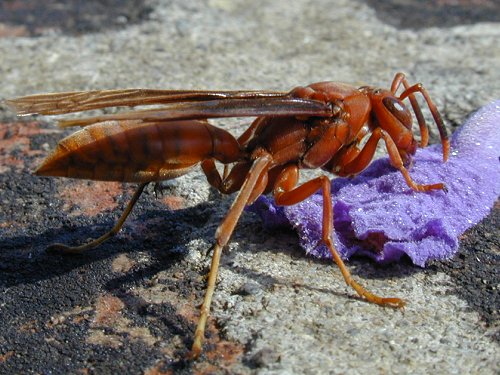 Wasp

We saw several of these large wasps during our stay in Mexico. They freaked Karen out but I thought they were fascinating. I took a photo of one with the cool macro-zoom function on my camera. Apparently they are attracted to sap on these purple flowers.
---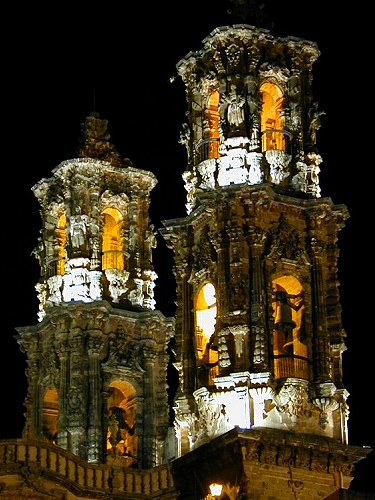 Taxco Cathedral

Taxco was nice but it was a bit touristy. We had become used to Guanajuato and the many things to do there. Besides shopping for jewelry there was relatively little to do in Taxco. So we stayed for a couple of days, then headed for Oaxaca. This is a photo of the Taxco Cathedral at night.
---
Next Up: Oaxaca

Copyright 2001
Scott & Karen Semyan