Post Five - The Zihuatanejo Area
---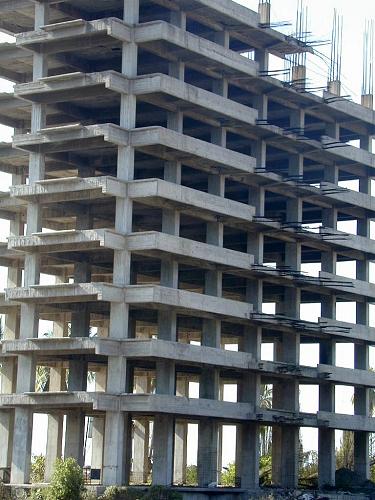 Modern Ruins

The thing about Mexico that surprised us on this trip was all the building that was going on. The Mexican economy seems in much better shape than when we were here in 1992. But tourists are fickle. This year's hotspot will be next year's has-been. This is a photo of construction on the beach in Ixtapa. The building area looked like it had not been worked on in a couple of years. Perhaps the owner ran out of money or the financing fell through (interest rates in Mexico are around 25 to 30 percent). Sitting on the beach, covered in vines it looked like a bizarre pre-Columbian temple.
---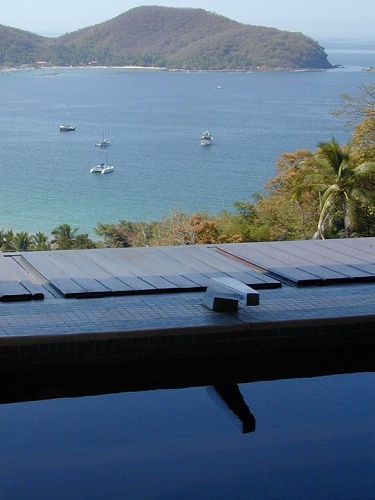 Hot Tub

As my part of the bargain for our condo, I spent a couple of days shooting photos of Leigh's condos around Zihuatanejo. The places I visited were among the highest end accommodations in the area and it was a little strange to know that such places existed in Mexico. Our trip, while not at the bottom of the scale, had been pretty low to the ground. This photo of a hot tub was taken from the veranda of a condo overlooking Zihuatanejo bay.
---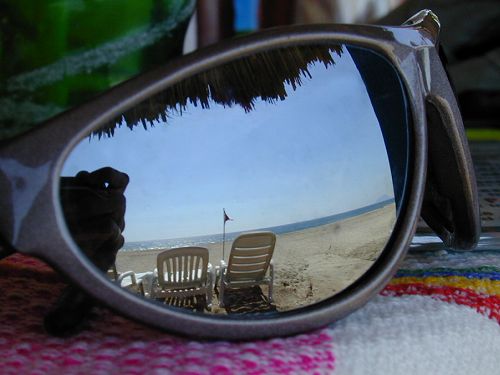 Playa Larga

One day, while shooting photos for Leigh, Carmen (Leigh's associate) drove us all around the Zihuatanejo area. After taking photos in town, Carmen took us to Playa Larga - a practically deserted beach south of the main town. Unlike Zihuatanejo, Playa Larga stretches out for miles without a soul. We drove for 20 minutes down the beach on a dirt road passing sporadic settlements before we finally reached an area with several small restaurants serving freshly caught fish. We were at one of these restaurants having a beer when I took a photo of the reflection in my sunglasses.
---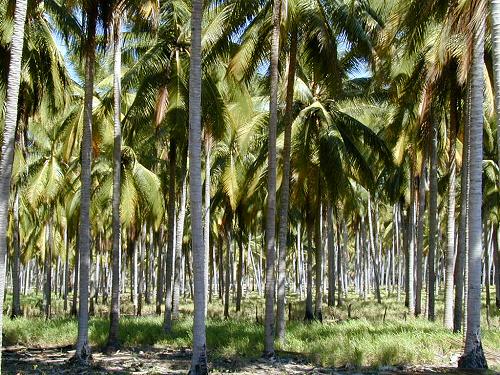 Palms

On the way down the beach we passed through a former coconut plantation. It looked like some of the islands I visited in the equatorial pacific. This is a photo I took of it.
---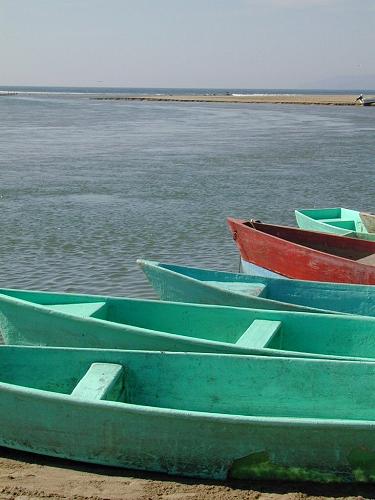 Boats

Because I was 'on assignment', I spent quite a bit of time trying to take shots of anything that looked photogenic. This is a picture of some fishing boats pulled up on the beach.
---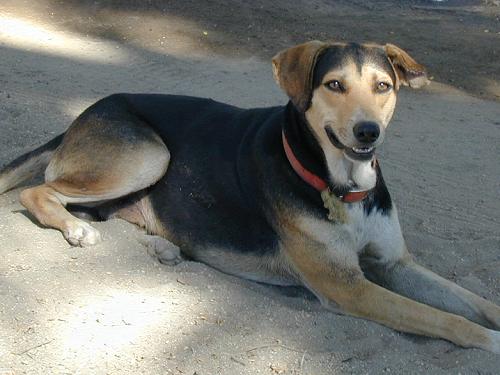 Contented Dog

In general, most of the dogs in Mexico we saw were pretty mellow. You don't see dogs on leashes going ballistic when they see each other. You rarely see dogs on leashes at all so they are pretty used to humans and to other dogs. All the dogs I saw in this beach area looked very content and happy. This dog was no exception.
---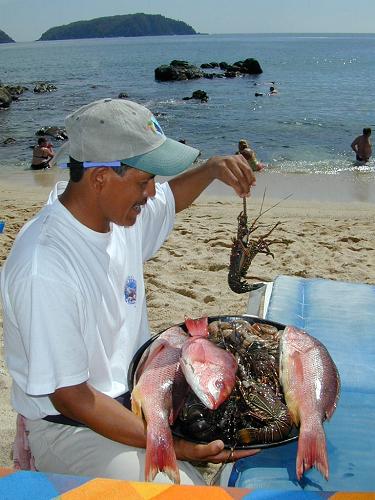 The Menu

One day we took a boat out to one of the islands near Zihuatanejo for a change of scenery and to try some snorkeling. While camped out on the beach of a restaurant the waiter came by and asked us if we wanted some seafood. We asked to see the menu and so he brought out this tray of fish and said, "This is our menu".
---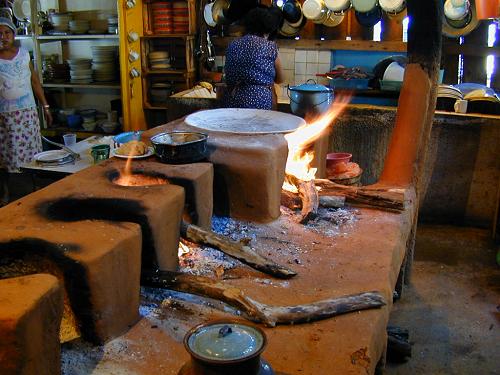 Beach Kitchen

The kitchens they have at these beach restaurants are pretty rustic. In the kitchen in this photo they use pans atop wood burning fires to cook their food. When I looked in there were five women running around trying to prepare the food for the numerous families that come out to the beach on the weekend. Needless to say, the food is great.
---
Next Up: La Villa Nirvana & Taxco

Copyright 2001
Scott & Karen Semyan