Post Five - Zihuatanejo Town
---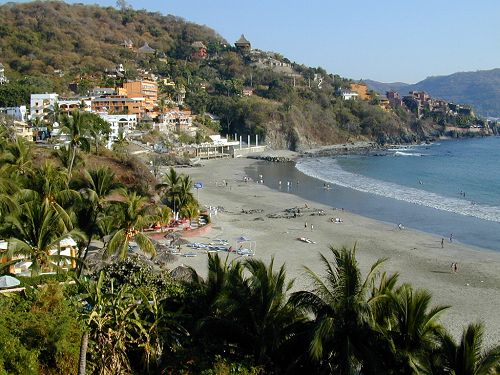 Playa Madera

We traveled to Zihuatanejo (on the coast) from Guanajuato (in central Mexico) to meet up with our friend Craig from Seattle and to spend some time on the beach. Prior to arriving, I traded e-mails with Leigh, a woman who rents condos in the Zihuatanejo area. I gave her some suggestions for her website (www.zihuatanejo-rentals.com) and she replied that she needed some new photos of some of her properties. After showing her my site, we made a deal; I would take the photos she needed in exchange for a discount on one of her condos. This would be my first work as a 'professional' photographer. This is a photo looking down on the beach below the condo we got in Zihuatanejo.
---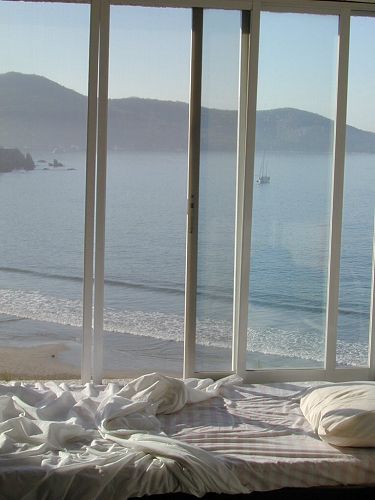 Our Condo

The condo we got from Leigh was beautiful. We had a bedroom, full bathroom, kitchen, dining area, and living room where Craig slept (this is a photo of his bed). The beach was just below us and town was a short walk away. If you go to www.zihuatanejo-rentals.com we stayed at the Suites Paraiso in the one bedroom unit. At night we slept listening to the sound of the waves and in the morning we awoke with the sun.
---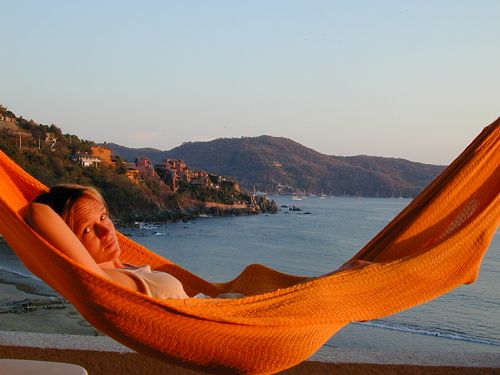 Lounging

We didn't have much planned to do in Zihua (as it is called) so we spent our time checking out the town, walking the beaches, swimming in the bay, or just lounging at the condo. Our veranda had a table and a couple of chairs - perfect for sitting, sipping a margarita and watching the sunset. There was also a hammock.
---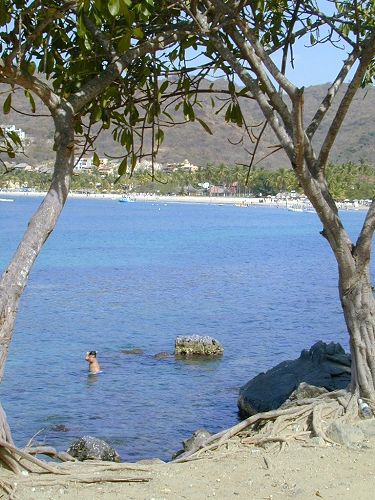 Agua Azul

The water in Zihuatanejo bay was a beautiful blue that doesn't really come through in this photo. This is a shot taken as we were walking to Playa las Gatas from Playa Ropa. Playa las Gatas (named after nurse sharks, not cats) was rather remote and had nice snorkeling while Playa Ropa was more popular and had the requisite jet skis (a pox on their inventor), parasailing, and sailboat rental. We took advantage of the latter and had some good times on the bay in an 18-foot Hobie Cat (when the wind was good).
---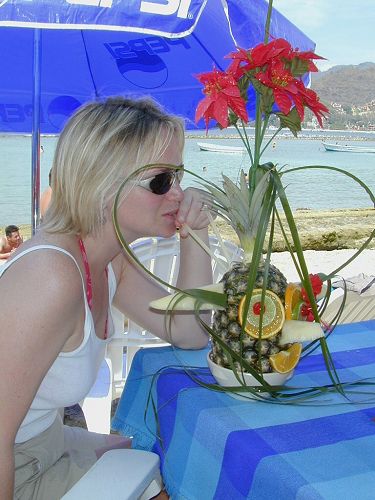 Piņa Loca

While on Playa las Gatas, Karen ordered a Piņa Loca (crazy pineapple). Basically, they take a pineapple, carve out the middle, throw it in a blender with rum and pour it back into the pineapple shell. It's rather pricey at $8US but quite potent. Of course they dress it up a bit for the tourists.
---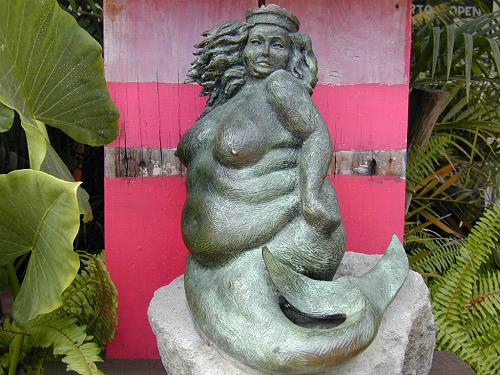 La Sirena Gorda

This cute little statue sat outside a Zihua restaurant of the same name. In Florida they say the story of the mermaid is based on the first sighting of a manatee. One might not think manatees to be womanly in shape. However, in my previous life as an oceanographer I would spend up to six weeks at sea. Coming into port after being away for so long, just about anything with curves looks good. I can imagine sailors getting a glimpse of a manatee and fantasizing that it was actually this woman.
---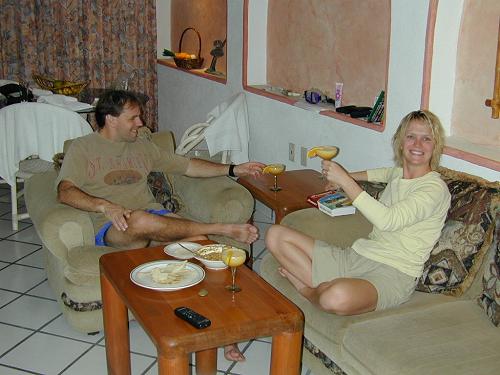 Cocktail Hour

Because we had a kitchen in our condo, we cooked most of our own meals. Every kitchen in Mexico has a blender. When we took cooking classes at La Escuela Mexicana, Hayde used the blender like a food processor to prepare ingredients for soups and stews. In Zihuatanejo, we used our blender mostly for making frozen drinks. Here Karen and Craig are enjoying a 'fooffy' concoction made with pineapples, oranges, bananas and rum.
---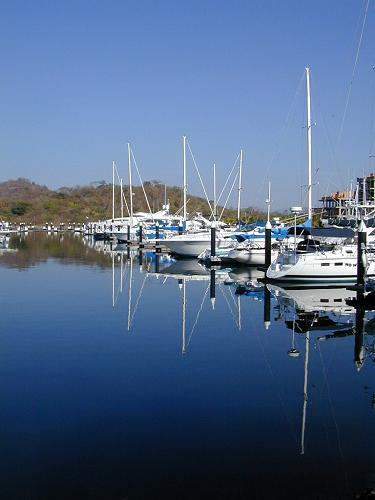 Ixtapa Marina

This is one of the shots I took for www.zihuatanejo-rentals.com. Ixtapa is a resort town the government built to attract tourists to the Pacific coast. They studied the vacation habits of the American tourist and built what they thought they would want. There are golf courses, a modern marina, and a white sand beach filled with four-star hotels. Of course, all the workers for Ixtapa live in Zihuatanejo, which, although touristy as well, is much more of a Mexican town.
---
Next Up: The Zihuatanejo Area

Copyright 2001
Scott & Karen Semyan