Post Five - Guanajuato & Zacatecas
---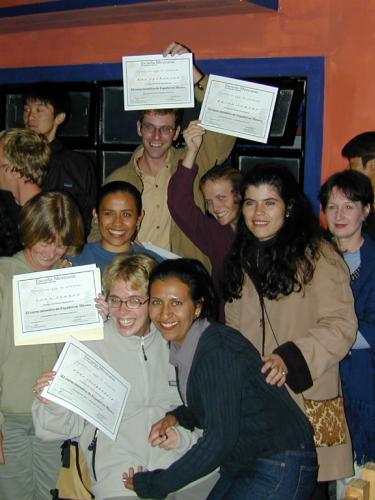 La Escuela Mexicana

We returned to Guanajuato because it was on our way back north and because it was our favorite place in Mexico. We arrived during an unusual downpour and went directly to Escuela Mexicana. Unknown to us, they were having a graduation for some students that were starting classes when we left at the beginning of February. Coming into that party was like coming to a homecoming. Nowhere else in Mexico did we feel as welcome and a part of the community as we did in Guanajuato. Seeing all our friends literally brought tears to our eyes. As the rain poured down outside, we drank beer and caught up with what everyone had been up to. This is a shot taken of that group.
---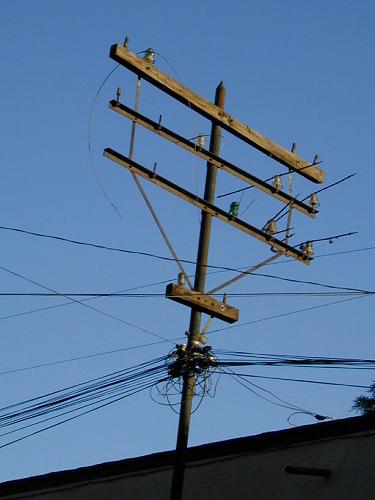 Mexican Telephones

The phone and electrical systems in Mexico are amazing in how chaotic they are and how well they work. In Mexico City we would watch street vendors 'hook up' to electricity by wrapping a wire around a bare conductor on a pole. In Acapulco I watched workers weld using a hand-held ground without gloves. Amazingly, it all works great. This is a photo of a telephone pole in Dolores Hidalgo. I'm sure everyone's reception is just fine.
---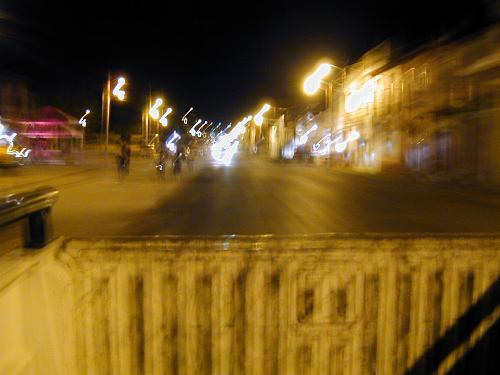 Dolores Hidalgo

While in Guanajuato, we stayed with our good friend Hayde. One weekend she and a friend took us to the nearby town of Dolores Hidalgo. Here we walked around, bought some pottery from one of the many stores filled to the ceiling with it, and sampled exotic ice cream (with flavors like corn, beer, tequila, and shrimp). We did the hour ride each way in the back of a pickup truck. This was our view on the way home.
---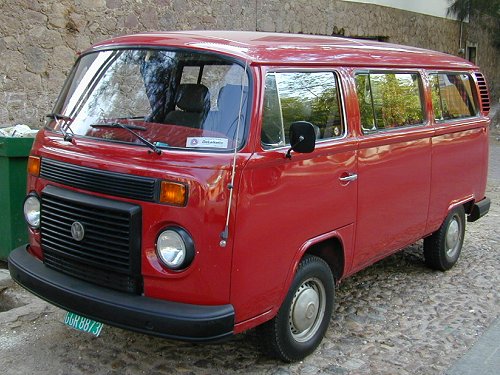 VW Bus

So, what's wrong with this picture? If you said there is a radiator grill on this normally air-cooled VW van you win! Until 1998 they still built the classic VW busses in Mexico, except they put water-cooled VW Jetta engines in them. This increases horsepower, gas mileage, and reliability while decreasing emissions. If they were available in the states I would buy one in a second. Unfortunately they don't come with airbags and have only marginal crash protection - therefore they are illegal to import back to the U.S.
---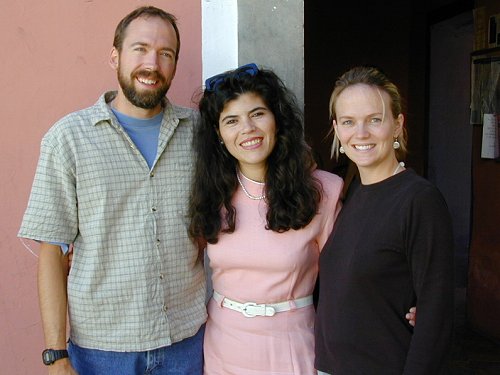 Hayde

This is a photo of Karen and I with Hayde outside of her Escuela Mexicana. In addition to teaching us Spanish, which gave us a whole new freedom, Hayde became our closest friend in Mexico. She welcomed us into her home, patiently listened to our broken Spanish, and talked slowly and clearly to us so we could understand her. Leaving her behind was the hardest part about leaving Mexico.
---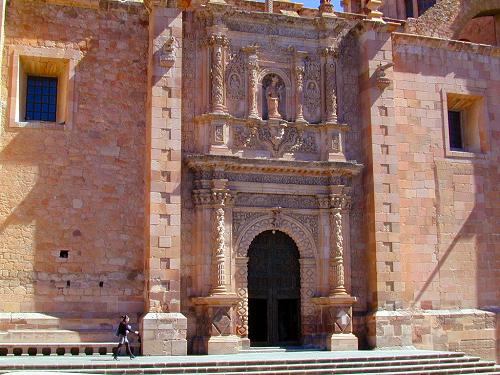 Zacatecas

On our way back to the Texas border we passed through Zacatecas, another one of the former silver mining towns in central Mexico. Although beautiful, our heads where out of Mexico and planning for Europe so we didn't enjoy it as much as we should have. This is a shot of their famous cathedral done in pink marble.
---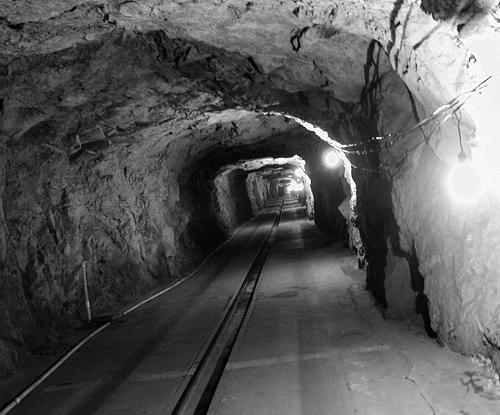 Silver Mine

Interested in the mining history of the region I went on a tour of one of the old mines while we were in Zacatecas. I was the only person on that hour's tour (in Spanish) so my tour guide and I had the place to ourselves. This is a shot looking down one of the mining tunnels.
---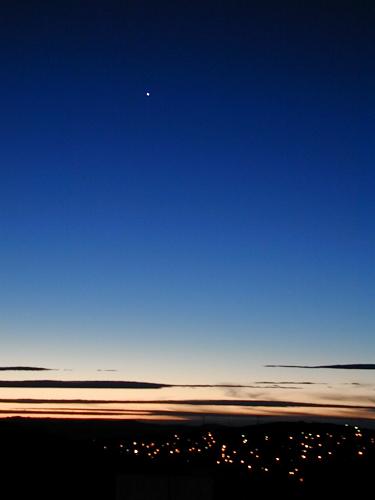 Mexican Sunset

From Zacatecas we took an overnight bus to the Mexican border at Reynosa and walked back into Texas. Our travels though Mexico had been educational in more ways than one. We learned how to speak Spanish, we met some wonderful local people, made some good friends, and learned that if you like a place, stay there. Ahead of us would be a journey around the U.S. for one last visit with family and friends before making the trip across the Atlantic to Europe. This is a photo of our last sunset in Mexico taken at the bus station while we were waiting for our bus to the border.
---
Post Five Contents
Copyright 2001
Scott & Karen Semyan