Post One - Burningman
---
Burningman Panorama

Here is a crude Panorama from the tower in our camp. Move your mouse around in the photo while holding the left button down. Cool, huh? This was done handheld so the edges don't really match up. If you look close you can see our van. This viewer is PTViewer2.7L2 and requires Java to be installed. You can view the original panorama here. Burningman was pretty much what I expected - huge, crazy, and almost overstimulating. If you know what Burningman is, I don't have to explain it - if you don't, I'm not sure I can.
---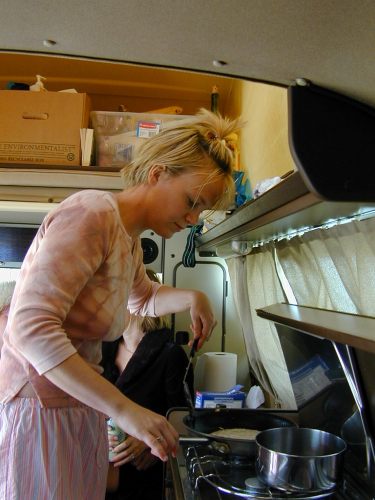 Karen Cooking Breakfast

Our van became breakfast central for our camp at Burningman. In the morning, Karen would crank out the pancakes or breakfast burritos while I brewed the coffee. Bleary-eyed revelers would stagger over and gain nourishment for the coming day. Because of the dust storms in the early part of the week, breakfast could last until afternoon as everyone waited for the winds to die down.
---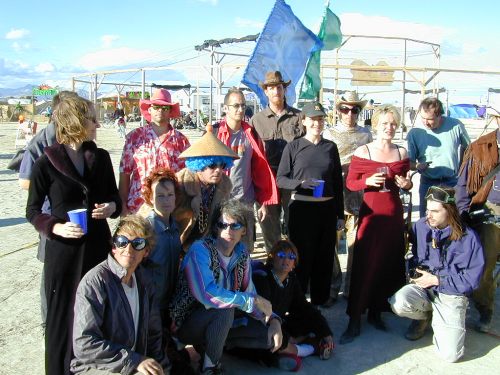 Our Burningman Crew

Here are the people from our Burningman camp (the Space Virgins). We got dressed up and posed for the pinhole camera across from our camp (you had to stand still for 3 minutes to get the exposure). Lynne ended up with the print so if you want to see it, ask her.
---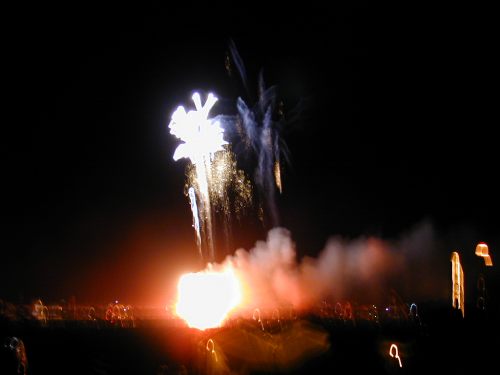 The Man Burns

While we were packing one of the busses to leave Saturday night, off in the distance, we saw the 'man' start to burn. This is the climax of Burningman, and we dropped what we were doing to run out and see it. Everyone was dancing to drums around the bonfire - a truly pagan experience. We saw many amazing things that night, but watching the man burn was the best. It was at this weird spectacle that we said goodbye to Todd, since he was headed back home that night on the bus. Our break with Seattle was complete and we were now on our own.
---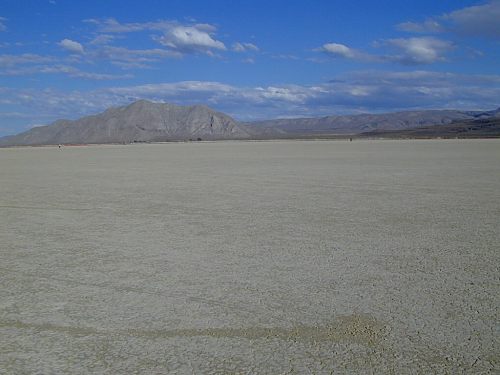 The Playa

Here is what the 'playa' looks like without any people camped on it -- flat and empty (it's an old lake bed actually). When the wind picks up, it blows all the dust on the ground into a whiteout. It's pretty cool if you are inside somewhere to watch it, but it kind of sucks if you are out in it.
---
Next Up: The Road to San Francisco

Copyright 2000
Scott & Karen Semyan