Post One - The L.A. Area
---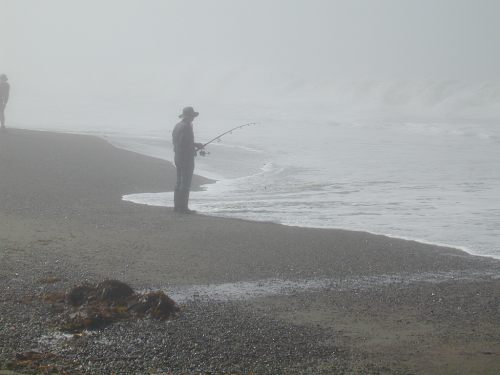 The Foggy Coast

While the interior baked in heat, the coast was often cool and foggy. After a crystal clear morning, we watched this fog roll in and completely obscure the sun. It was strange. You half expected dead sailors to walk out of the fog, seaweed hanging off of their arms.
---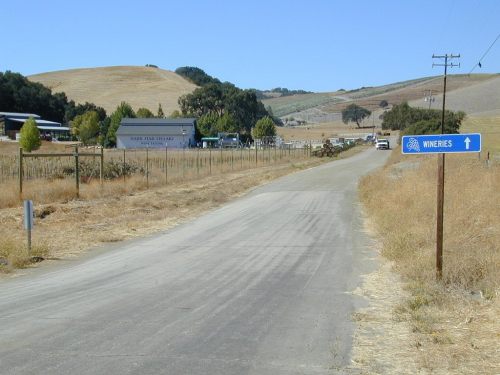 Paso Robles Wineries

To our amazement we found some excellent wineries around the Paso Robles area. We visited Bonny Doon, Dark Star, Peachy Canyon, and Meridian. The wines were excellent, and the unpretentious atmosphere reminded me of wine touring in Washington -- quite a change from Napa. It even looks like Eastern Washington.
---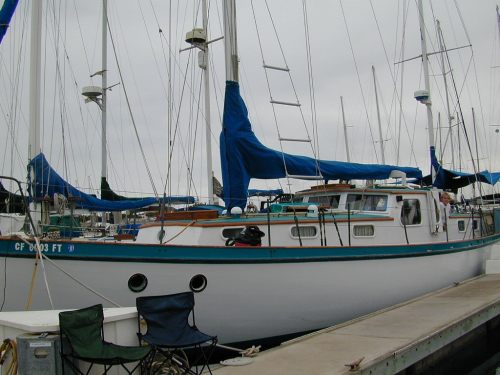 Cyclades

In Oxnard, we hooked up with some friends and got the opportunity to stay on their beautiful wooden sailboat. We had been down a year earlier and sailed with them to Anacapa Island when our friends got married. It was great to see them again and talk about traveling. One of the things I love about life on the road is the amazing people you tend to meet. Seeing Debra and Danny rekindled our interest in Mexico and other tropical locales.
---
Dino

This is a children's ride on the pier at Santa Monica. As I passed by, the face looked so comical (or diabolical) that I had to take a photo. We were approaching L.A. and the fine line between the appealing and the appalling was beginning to manifest itself. Shortly before we came into Santa Monica, we toured a house for sale on the beach in Malibu. It was listed at $3.7 million. A previous owner had killed himself in the guesthouse out back. The difference between paradise and purgatory is all in your outlook.
---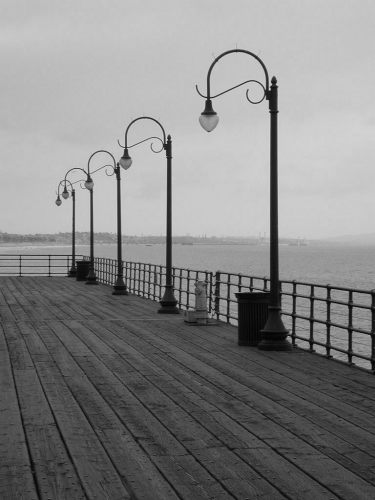 Santa Monica Pier

As we entered the L.A. area, we started seeing famous sites. Santa Monica Pier has been featured in songs, TV shows, and movies. From here on out we would pass by sites known to us by popular culture. Of course, this city is just like all other cities. The reason we think it is different is because we are familiar with it in an unrealistic way.
---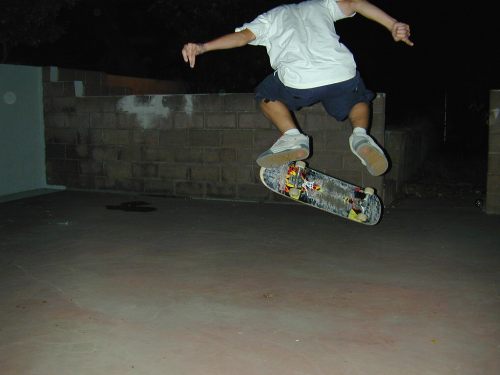 Jonathan

In Riverside we stay with John and Lauren (Karen's sister). We got to work on the van, do laundry, and spend plenty of time just relaxing over wine. One evening, John's son Jonathan came over and entertained us with skating. This, I believe, is an example of a Nollie Flip.
---
Post One Contents
Copyright 2000
Scott & Karen Semyan