Post One - The Road to San Francisco
---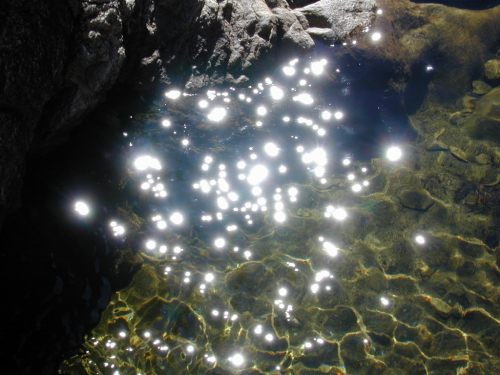 Light on Water

After Burningman, we headed to Reno to decompress. We spent two nights in the Hilton RV park trying to get back to reality, and trying to come to grips with the fact that we didn't have to go home (for now, home is where the van is). After Reno, we hit some great hot springs in Markleeville, CA. It was beautiful and empty of people (refreshing after Burningman and Reno). We had a really nice soak and a relaxing evening cooking, reading, and looking at the stars. The next day I went for a hike and started playing with my new digital camera (the Nikon CoolPix 950). Because I am not working with film, I can take literally hundreds of shots and then choose the best ones. Here is a shot I took of some sun on the water.
---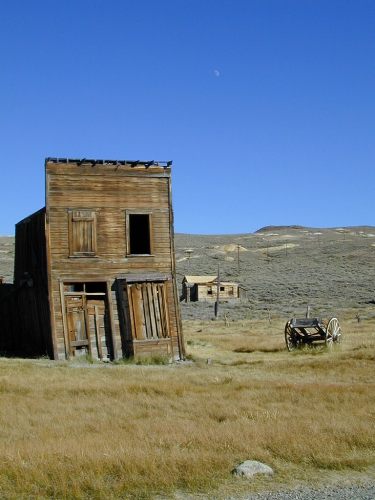 Bodie House

After Markleeville, we headed toward Yosemite. Along the way we stopped in Bodie, a fantastic ghost town on the California/Nevada border. It is preserved in a state of 'arrested decay'. Walking the old streets you can feel the echoes of the people who once lived here.
---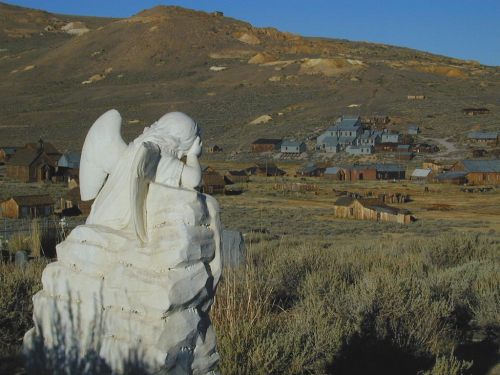 Bodie Graveyard

Most of the miners who came west with the gold rush went home broke. But they took home some great stories to tell their grandkids. Out in the cemetery, we read some of the stories of people who didn't make it back. There were a lot of children who lived short lives, and a lot of immigrants from Europe. In this picture, Bodie is in the background. You can see the mine works above the town. The gold rush fascinates me because I believe that had I been born in that time, I would have headed west along with all the other gold seekers.
---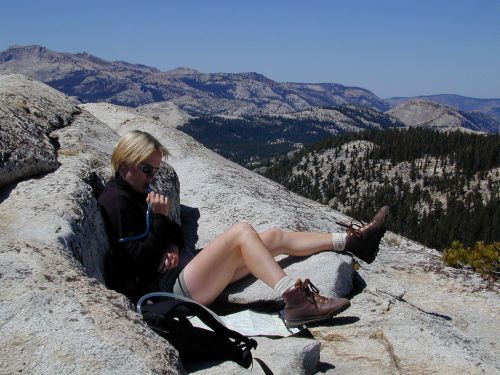 Yosemite View

This is a shot from the top of Lembert Dome in the Tuolumne Meadows area of Yosemite. We had just scrambled up the back of this perfect dome of granite. It was easy but a little exposed. This area was stunning -- the views (and the 9,000 foot altitude) made us gasp for air. I had been here before to do some climbing. This time we just hiked around and enjoyed the beauty.
---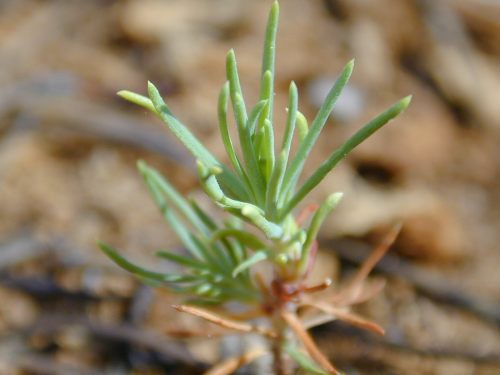 Sprout

Here is another shot I took while out playing with the camera. The macro ability on this camera is amazing. This is a tiny spruce about as big as my thumbnail growing up out of a fallen log.
---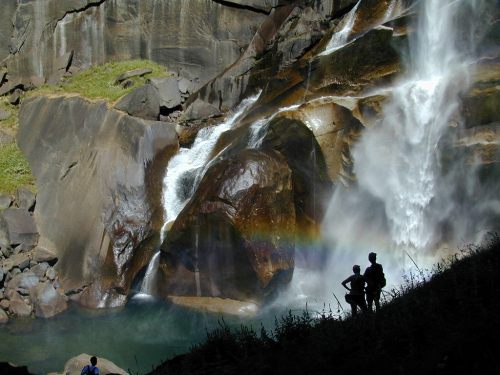 Yosemite Falls

This is a photo of Vernal Falls in Yosemite Valley. This was a fairly strenuous hike and Karen and I were amazed at the amount of people who did it (of all ages and athletic abilities). The falls were beautiful, giving off a fine, cooling mist and the powerful sound of water hitting rock.
---
Next Up: San Francisco and Napa

Copyright 2000
Scott & Karen Semyan