Post Six - Ft.Lauderdale
---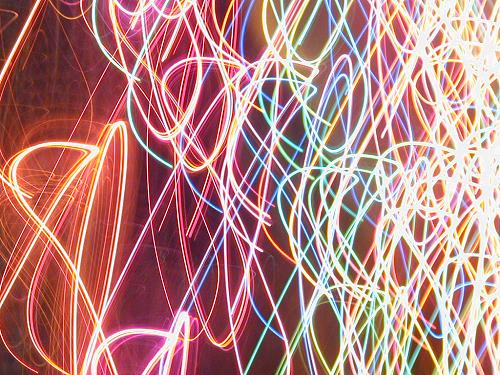 Smear of Lights

Deb picked us up in Ft. Lauderdale at the station and took us straight to a party in full swing at her friend Steve's apartment. It was great to see Karl and their grad-school friends, some of whom we know pretty well. I remember sitting on the deck watching the t-shirt-and-shorts-clad crowd of scientists and graduate students sway to the chords of Bob Marley in the living room, their faces dappled pink, blue, and green by the Christmas lights strung from Steve's entertainment center.
---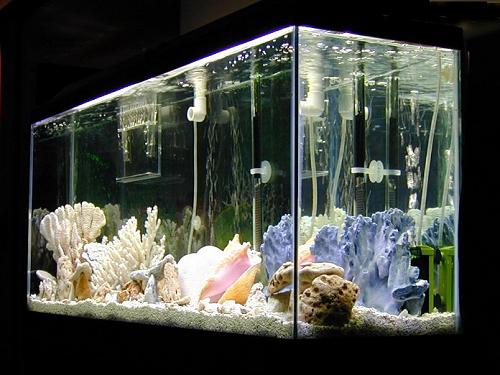 Floating Fish Tank

Besides being the host of the party, Steve also hosted us in his home for two days. What a great guy! He had just set up a new saltwater fish tank that was eerily beautiful. It glowed so brightly in the dark of the evening, it almost looked suspended in air.
---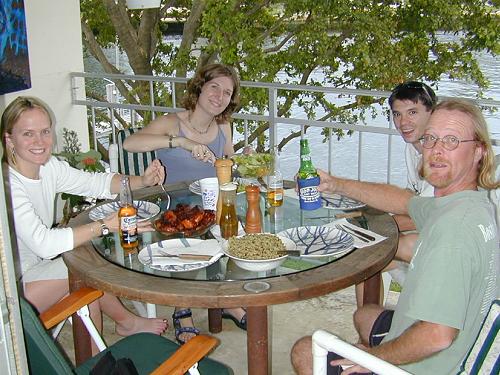 Party on the Patio

Steve, Debra, and Karl took us for a walking tour of Ft. Lauderdale's ocean drive. There was a festival in progress on the beach, complete with live bands and lots of food vendors. The beachside bars were in full swing at 2 in the afternoon. Rather than hang out there, we opted for dining on grilled chicken, wild rice, and salad on Steve's patio. A FAR superior experience....
---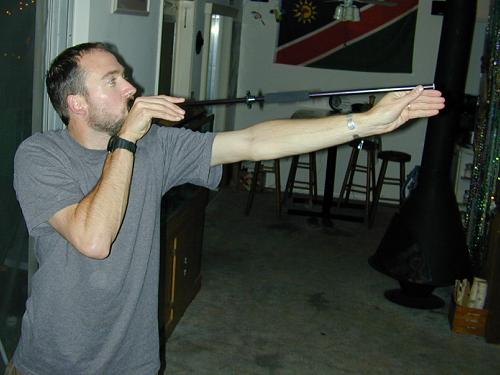 Whatever You Do, Don't Inhale

Besides giving us free reign to put our feet on his furniture and raid his refrigerator, Steve also let us play with his toys, including his rubber darts, guns that fired neon-colored foam discs, and this blow gun (definitely Scott's favorite), which allowed the user to shoot sharp little needles at a target (see next photo).
---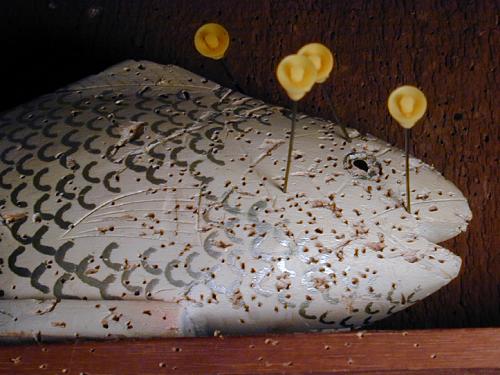 Don't Inhale, #2

The eye on this little fish was the blow gun target. Everyone spent hours playing with this, except me. I just watched and tried to stay the hell out of the way.

(Scott's comment: This thing was wicked cool. If anyone knows where to get one, please email me.)
---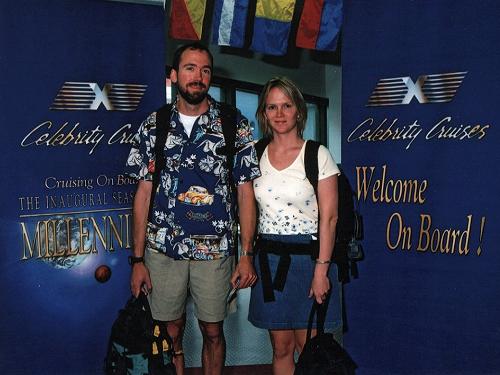 Ready to Board the Millenium

The morning of our departure morning Scott and I called our parents and siblings. I held back tears as I promised everyone I'd call once we hit the European mainland. Scott was psyched to set sail; his experiences on oceanography research cruises left him well-prepared. I was terrified. But I also knew it would be an unforgettable experience.

We checked in, had this photo snapped, and crossed the gangway onto the Celebrity Millenium.

(Scott's comment: Sorry for the poor quality of the photo, it's a scan of the one we bought on board.)
---
Post Six Contents
Copyright 2001
Scott & Karen Semyan