Post Six - Kalamazoo to Florida
---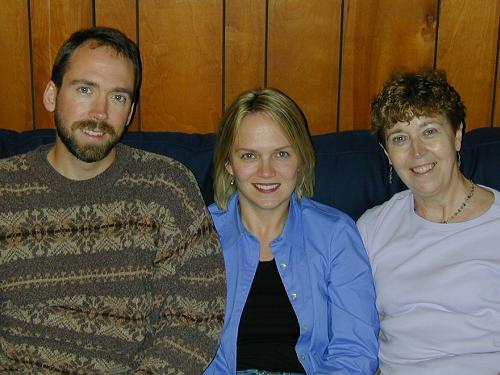 Scott's Mom Barb with Us

The Kalamazoo station is small, quaint, older building, just as you would imagine in a town named Kalamazoo. Barb greeted us with big hugs and an extra surprise: Scott's friend Tim Ford, with three-year-old Austen in tow. At the house, Barb indulged us in homemade coca-cola cake and red-and-green-layered jello. It was nice to be back in the Midwest.
---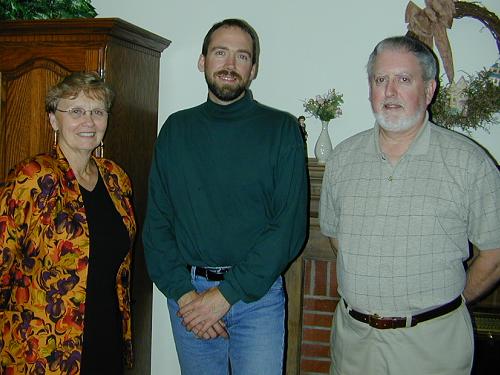 Phyllis, Scott and John

The time in Kalamazoo was brief and intense. We talked to Spanish classes at Scott's former high school about our Mexico experience. We met Jane Lloyd, the editor of the school district newspaper, for which Scott is writing a series of alumnus articles about our travels. And we spent a fantastic evening having coffee with two of Scott's former high school teachers, John Streeter and Phyllis Davis. Together with Barb and Phyllis's husband Phil, we discussed everything from the state of the education system, to traveling on safari in Africa and driving the Al-Can to Alaska.
---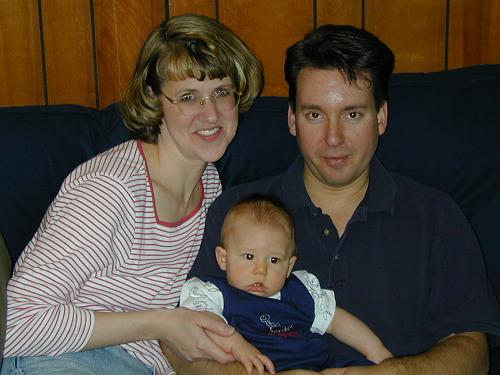 Tim and Amy with Little Trevor

We also met the newest member of the Ford family, Trevor, and spent time with the family. We even found time one night to go out for dinner at a hip new restaurant in downtown Kalamazoo.

(Scott's comment: This is Tim showing off the fruit of his loins.)
---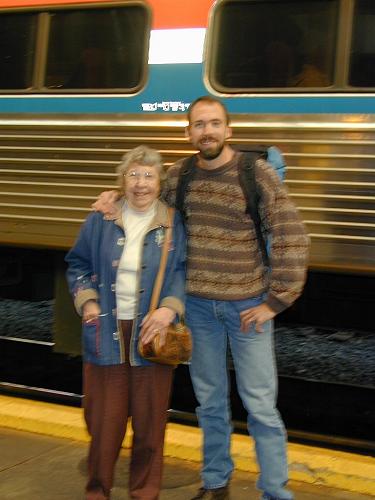 Manny and Scott

Driving to Pittsburgh was quick on the toll roads. When we arrived late in the evening Manny was waiting for us with beers and Pittsburgh's famous chipped ham. Manny took us to the new baseball stadium with its mammoth bronze statues of Willie Stargell and Roberto Clemente. We toured through Upper St. Clair, a township visited by George Washington. Manny has lived there for more than 50 years and watched it grow from a population of 2,000 to more than 20,000. She pointed out historic buildings, drove us by old farms that are now subdivided and covered with expensive homes, and took us to church plot where Scott's grandfather now rests.

I never really got to know my own grandparents very well. What a gift to know Manny. One evening we watched the sun set over Pittsburgh while enjoying a classic Italian meal at Pascarelli's, compliments of Manny. I'm still angry that this is a blurry shot (I took it), but we're putting it up anyways.
---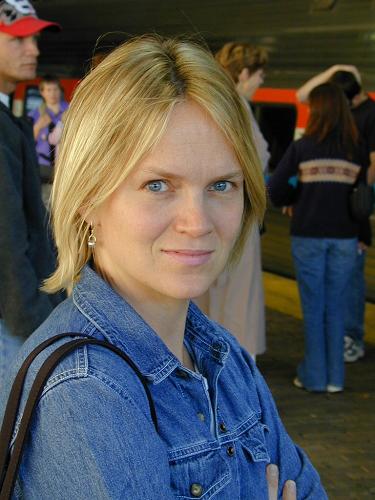 A Train Stop in the South

Scott snapped this photo of me on a platform enroute to Florida. For some reason, he likes this picture a lot. I only remember feeling pained at the cloud of smoke wafting at us from a nearby cluster of passengers getting their nicotine fix.

(Scott's comment: My wife is a babe.)
---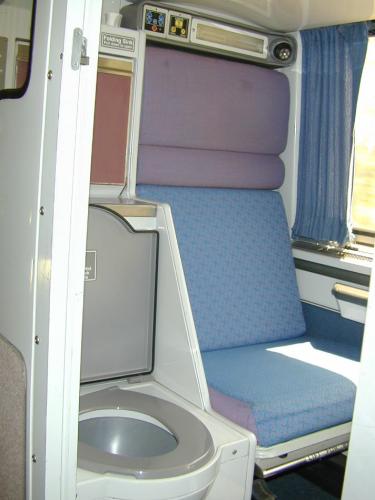 High-Tech Sleeper

The overnight train to Florida actually had two legs. We rode coach to Philadelphia, then switched trains and settled in our sleeper car for the next 24 hours. This car was even better equipped than our last one, with a small television (didn't really work, but I was still impressed), a toilet and sink, and an extra luggage compartment.

(Scott's comment: Toilet time in the tiny room was quite entertaining. Unfortunately, Karen won't let me post any of the photos.)
---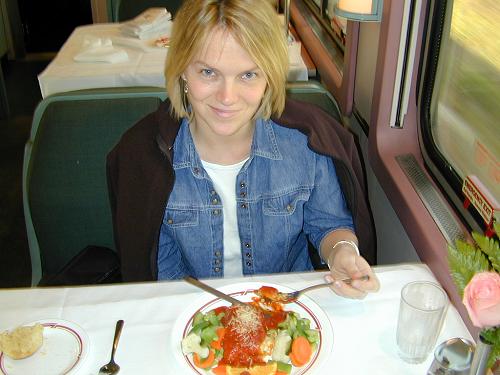 Veggie Lasagna

The dining car served up dependable, at times even creative diner food, well-prepared and presented (more Yankee Diner than Coastal Kitchen, as a frame of reference for you Seattleites). The tables were set with white linen and flowers, a nice touch. The atmosphere was professional yet pleasantly informal. I think the staff actually might even like their jobs. At one point the chef was singing, and the brisk, smiling waitress called everyone "hon." This lasagna was great.
---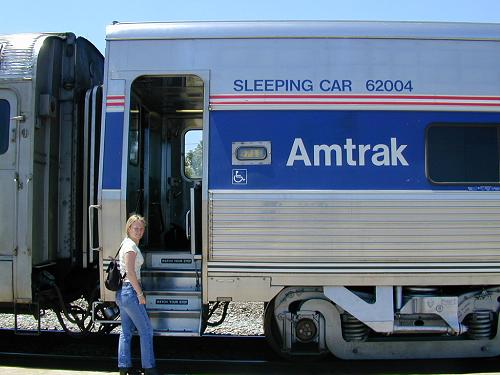 All Aboard!

The rest of the train ride was pleasant, taking us out of the industrial Northeast through shady woods, tangled swampland, and waving, grassy wetlands. It was a pleasure to just stare out the window-watching the scenery, thinking, meditating. Over those three days, Scott delved into "Guns, Germs, and Steel" and worked on his photographs. I killed a PD. James novel and made headway in my Mexico journal. We both napped and puzzled over crosswords.
---
Next Up: Ft. Lauderdale

Copyright 2001
Scott & Karen Semyan