Post Three - Arizonia & New Mexico
---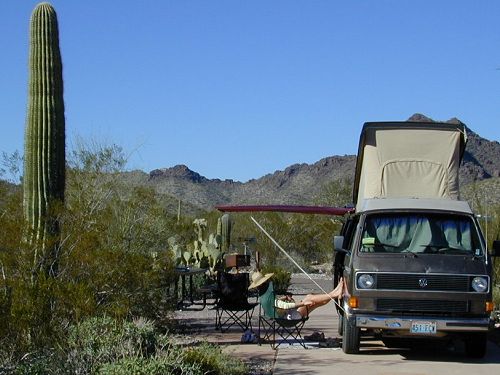 Organ Pipe National Monument

The desert is beautiful in the fall. The days are clear, dry and hot while the nights are cool requiring you to wear a jacket while you sip your beer or wine under a canopy of stars. We love to be in the desert this time of year because this is when Seattle gets some of its worst weather. Apparently, others like to be here as well. The Organ Pipe Cactus National Monument is three hours south of Phoenix on the Mexico border. It is out of the way and we were surprised to find that their campground has space for the hundreds of RVs that come down in the winter from the north. Fortunately for us, their high season is in January so while we were there most of the campground was empty and quiet. We spent our days here relaxing and catching up on our reading.
---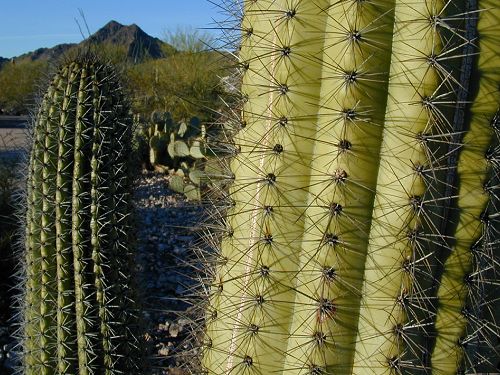 Cactus Close-up

Along with reading, I spent plenty of time taking photos and learning the tricks of my Nikon Coolpix 950 digital camera. The LCD screen on the back of the camera allows me to see exactly what the camera sees - lighting, depth of field, focus, and colors are all readily apparent. Because I have the ability to go fully manual with this camera, I can play with aperture and shutter settings to get just the image I want. Also, since my film is literally limitless, I can take 20 photos of a flower and later pick just the right one. I spent an entire afternoon taking photos of the many cactus species around our campground. Cacti are such weird plants - adapted to live in an environment that few things can tolerate. I never tire of looking at or photographing them.
---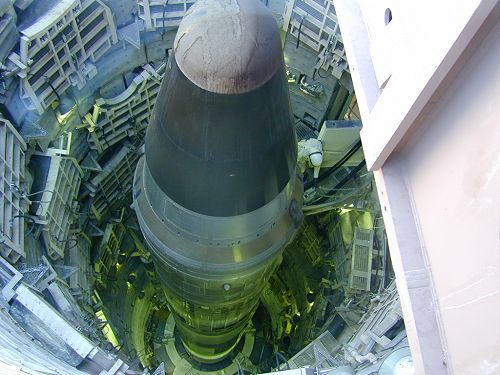 Titan II Missile

Outside Tucson is the only remaining Titan II missile base left over from the Cold War. Between 1963 and 1987, there were 54 such sites hidden underground around the country - all loaded with missiles ready to be launched within a minute of receiving their orders. Decommissioned as part of the Strategic Arms Limitations Treaties (SALT), only this base remains - the rest were destroyed after salvaging any useful parts. When they made this base into a museum, the silo door was permanently fixed in a half-open position with a Plexiglas top so the Soviet satellites could verify the base was non-functional. During our tour we went down into the underground bunker (built to withstand a direct nuclear blast) and simulated a launch. Karen and our tour guide simultaneously turned their keys in the firing consol and as lights lit and alarms sounded the 40-year-old machinery went through its pre-launch cycle. When the final light lamp came on, the missile would have been on its way to someplace in the former Soviet Union. Afterwards, the crew had one week of food and air before they had to surface to see what remained above.
---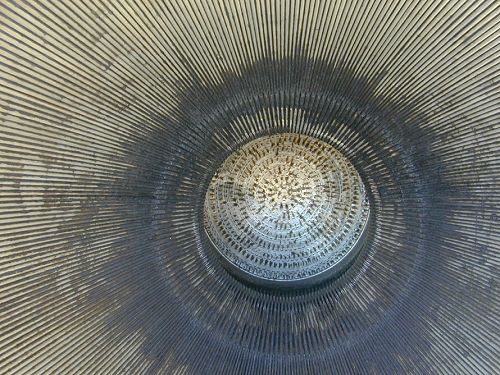 Thruster Cone

I have always been fascinated with the concept of nuclear weapons. While I am impressed with the science behind their discovery, I am appalled to think how easily we could destroy all life on the planet. Perhaps we are not as far removed from our primitive past as we would like to think. I wish I could have talked with one of the crews that manned the base while it was active. What kind of person would have worked there and what did the Air Force do to screen them? Walking the corridors within the bunker was eerie but uplifting at the same time. It's scary such places ever existed but it is refreshing that they are now museums and that the threat of nuclear destruction, while not gone, is diminished. In the courtyard above the bunker are examples of missile engines, fueling tanks, thrusters, etc. - all with amazing craftsmanship. Imagine what could have been done if we had devoted the Cold War effort to solving world problems rather then building weapons. I guess the instinct to protect oneself is stronger then the instinct to help others. This photo is of the inside of a missile thruster.
---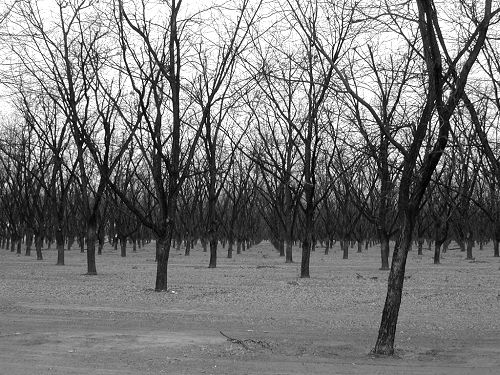 Pecan Trees

New Mexico was beautiful but our time here was short. We stopped in Las Cruses long enough to sample the fantastic beers at the local brewpub, High Desert Brewing (definitely worth a stop), before continuing on toward Dallas. South of Las Cruses, near the Texas border, we drove past miles of pecan trees. With their leaves gone and the sky overhead gray, we could tell winter was on our tail and that the holidays were approaching.
---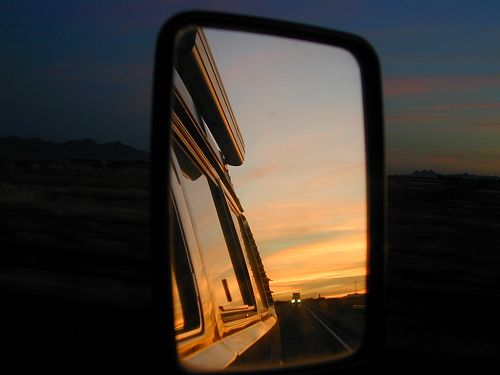 Southwest Sunset

As we drove into El Paso we were glad to finally be in Texas and nearing our ultimate destination: Dallas. Since we left Seattle in August, we had crisscrossed the southwest but generally worked our way east. Ahead of us was time to spend with family and friends over the holidays. Behind us was the desert and free days we spent adjusting to our new life away from Seattle. Our travels in the van were coming to a close and it was time to try something new.
---
Next Up: Texas

Copyright 2001
Scott & Karen Semyan