Post Three - Texas
---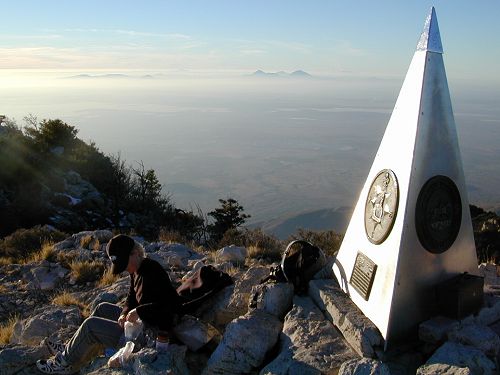 Guadalupe Peak

It's a long drive from El Paso to Dallas but luckily there are some interesting things to see along the way. On our first trip around the country in '92 we spent a month and a half touring Texas and on this trip we wanted to return to some of our favorite places. On the border with New Mexico, the Guadalupe Mountains National Park is one of the least visited in the entire park system. The mountains are the remains of a Permian-aged reef and Guadalupe Peak, at 8,749 feet, is the highest point in Texas. We arrived at the park a little late and literally ran up the 4-mile trail to the summit, getting there just in time to watch the sunset. Standing on the top of Texas, looking out at the endless plains leading toward Dallas was a great way to return to the state.
---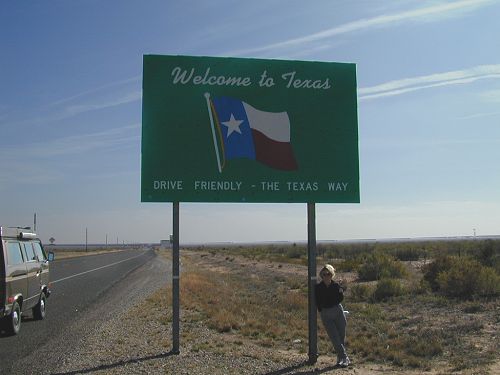 Texas Driving

If you have driven much in Texas you'll understand why we think this sign is so funny. Texas drivers are pretty aggressive and Dallas drivers are some of the worst - they like to drive fast and have little patience for slow moving Vanagons. Also, they never use their turn signals. I love Texans but their driving sometimes makes me crazy.
---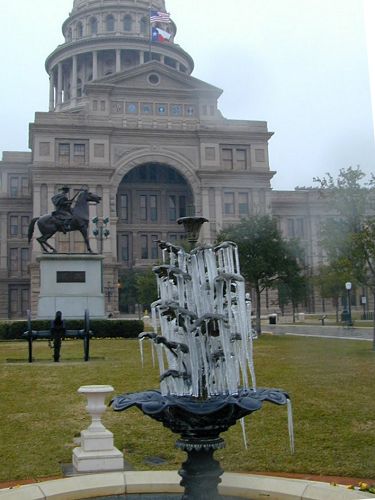 Frozen Austin

We were in Austin during the final days of the historic 2000 election. Media tents were set up all around the Governor's house as the date for resolving the Florida vote approached. That weekend there was a freak ice storm that practically closed down the city. I thought it was ironic that as Bush finally won the U.S. presidency this southern city was freezing over.
---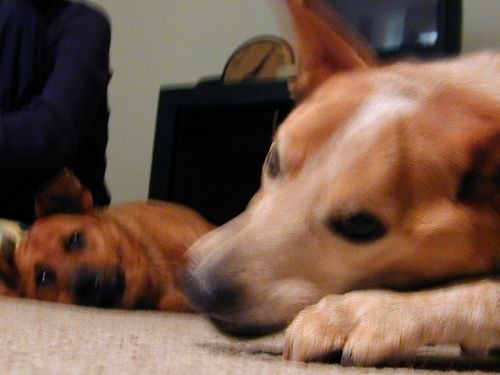 Dogs

When we were in Austin we stayed with Larry and Brigitte, our friends from Seattle. They had two cool dogs and one night as we stayed up talking and drinking into the night I took a number of photos of them with my camera. Although a little grainy, I think this image captures our time there. Like these dogs, we were comfortable because we were among our friends.
---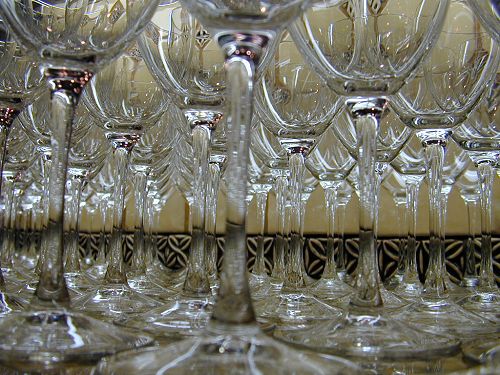 Holiday Festivities

Christmas in Dallas is always a big deal. We arrived in time to attend a holiday party at my father and stepmother's new home. We had plenty to celebrate. We had quit our jobs, left Seattle and toured the southwest without any major problems. We were now among family and friends and had almost the entire month of December to catch up, work on the van, pay bills, and enjoy being in one place for a while. This is a photo of wine glasses in preparation for the party.
---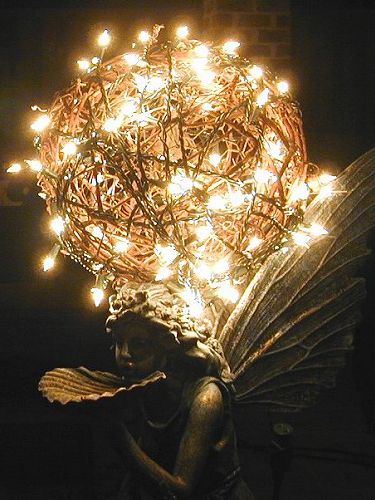 Christmas Decorations

My dad and stepmother are into Christmas decorations and during the holidays their house looks like a fantasyland. There are nativity scenes, Dickens carolers, Christmas trees, and holiday music on all the time. This photo is of one of the decorations they set up in the back yard.
---
Next Up: Family

Copyright 2001
Scott & Karen Semyan