Post Two - Canyon Country
---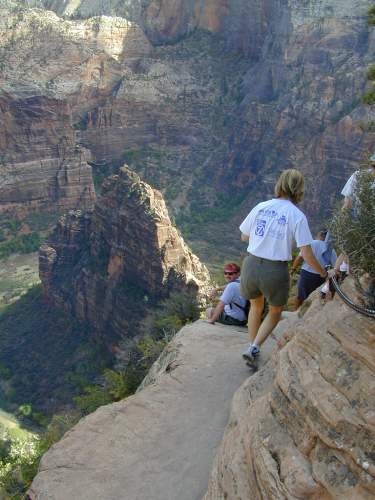 Angel's Landing

From Las Vegas and its excessive people, we traveled to Zion National Park and its excessive geology. The canyon here is several thousand feet deep and one feels like an ant crawling though it. They have a hike here unlike any other I have experienced in the national parks. The Angel's landing trail travels from the canyon floor to the top of one of the park's peaks. The first few miles are standard switchbacks but the final half-mile follows a knife ridge with only chains to grab on to. I am used to heights and scrambling so for me it was an exhilarating but comfortable climb. The thing that is amazing is that this route is regularly done by grandmothers, kids, and dogs. I saw people almost frozen in fear inching along, gripped tightly to the chains. It's encouraging to see people pushing their comfort zone - wherever that zone may be.
---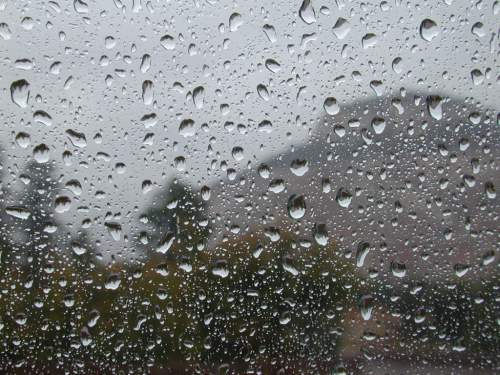 Rain in Zion

While in the desert, you always hear about the risk of going into the canyons during downpours because of the danger of flash floods. Our third day in Zion the heavens opened up and I watched in amazement as it literally rained sheets. We pulled off to the side of the road because it was coming down so hard. All the rock formations are completely impervious to water so shortly we were watching rivers of water flowing off of the rock. Being one who likes natural phenomena, I was aching to see a flash flood. We had hiked many washes and puzzled at how huge logs could get lodged so high up. So with the rain pouring down and streams of water flowing off of the rock, I raced outside into the maelstrom to try to witness one of these events. I saw a dry wash turn slowly into a stream but it was much less catastrophic then I had hoped. Disappointed, I got back in the van, changed into dryer clothes, and took melancholy photos of rain on the windows.
---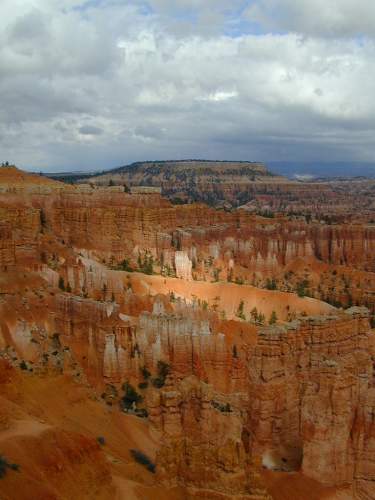 Bryce Canyon

We had been to Bryce on our first trip around the states. As I recall, we pulled into the 8,000-foot national park in February and found 5 feet of snow on the ground. This time we pulled into the park in October and caught the first snow of the season. We have nothing against cold weather but we weren't ready to be done with summer yet so we took a few photos and headed to lower altitudes and warmer air.
---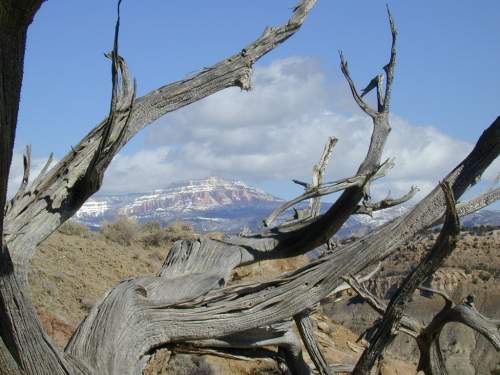 The End of Summer

As much as we had hoped to have an endless summer, it was clear that the weather was turning colder and the days were growing shorter. We escaped the rain in Zion and fled the snow in Bryce but the summer of 2000 was drawing to a close and for the remainder of the trip we would be bundling up during the day and putting on extra blankets at night. This is a photo we took from Kodachrome Basin (2000 feet below Bryce). Winter was on the way and for the rest of the trip we would feel like it was right on our heels.
---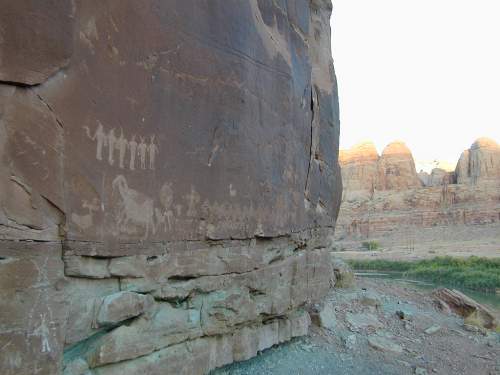 Petroglyphs

After exploring the Escalate region briefly, we came into a region we know fairly well - Moab. We have been here several times to mountain bike, hike, camp, and just explore. As much as I like the area, I must admit it is starting to suffer from its popularity. Mountain bikers, climbers, and RVs are everywhere and the desert is starting to show the strain. Obviously, the grand beauty of the area and the spirituality that can be found in such places draws people. Being in the bottom of a huge canyon helps you get back in touch with the feeling that there are things greater then yourself. The people that originally lived here certainly knew that. Perhaps with their rock art they were trying to communicate something to those who passed by after they were gone. To me these Petroglyphs say: "look around, enjoy this place and your time, because soon you will be gone".
---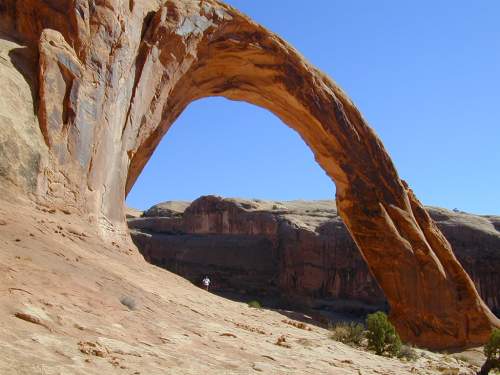 Corona Arch

We spent the first part of our time in Moab just getting chores done and catching up on our email. We were meeting up with family soon and would be touring all the main sites with them. Before they arrived, Karen and I took one last hike together to a rarely visited arch. Since we left Burningman six weeks earlier, we had essentially been alone. After this hike, we would be with family and friends for most of the rest of the trip to Texas. We were looking forward to being with loved ones again but we knew the introspective phase of our tour of the southwest was over.
---
Next Up: Family

Copyright 2000
Scott & Karen Semyan