Post Two - Hot Springs and Canyons
---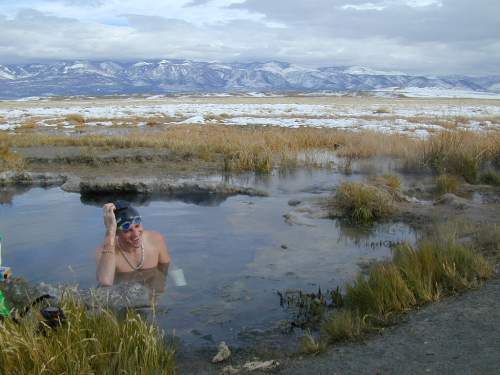 Meadow Hot Spring

We found an amazing hot spring in the middle of Utah. In Ogden we had bought a guidebook to the hot springs of the southwest (we should have bought this book much earlier). The book mentioned this spring (Meadow Spring) just off the highway. Not expecting much we followed the directions and came upon what looked like a 20-foot wide puddle. To our amazement it was over 30 feet deep and filled with crystal clear bath-warm water. People we met there loaned us some goggles and we dove down examining the underwater chamber where the spring bubbled out. This is the nicest hot spring I have ever visited.
---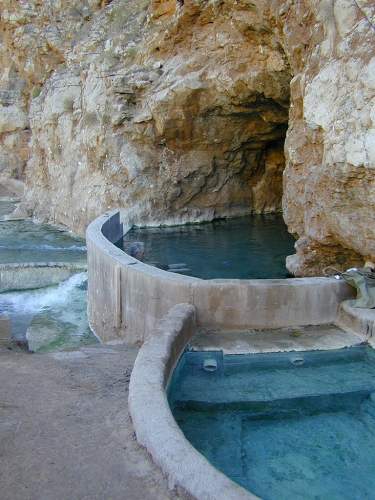 Sulfur Hot Spring

As we continued south through Utah, we found another hot spring from our book. This one was much hotter and had been developed. It also had a strong sulfur smell that took some getting used to. We were able to camp in the van here and enjoy the spring that night and the next morning. For some reason, the chemicals in the water turned all Karen's jewelry black.
---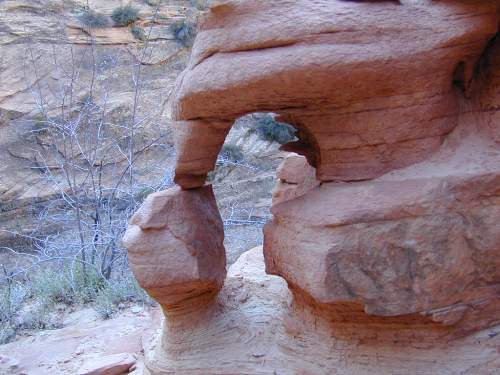 Zion Arch

Back in Zion we came upon this arch. We gazed at it and then took a few photos. It was pretty unique. And if you click here you will see why.
---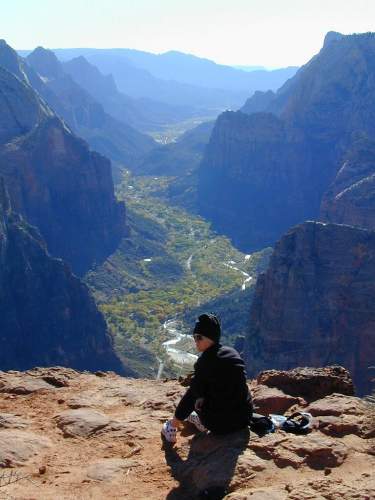 Zion Valley

Zion National Park was right on our way toward Death Valley where we were meeting up with Karen's sister and brother-in-law. It was nice to see it in the off season. When we were there earlier, the canyon was full of people and they had to use shuttle busses to transport people around. Now, the canyon was mostly empty and we practically had the place to ourselves. We did a hike here called the Viewpoint, which, true to its name, left the valley floor and eventually climbed up to the lip of the canyon. It was good to get some exercise again and the views were spectacular. The leaves in the valley were just turning and it was good to be alive.
---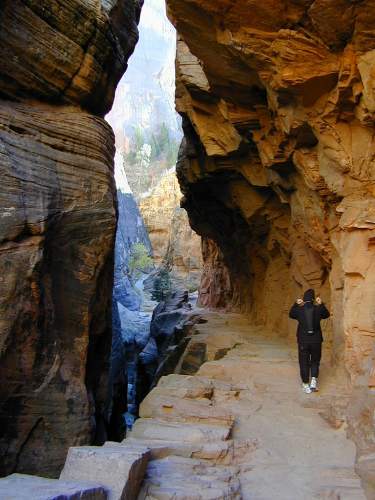 Zion Canyon

This is a view of the slot canyon we hiked through to get to the viewpoint. This is one of the places it would be fun to see during an intense rainstorm. Alas, when we were there most of the water was starting to freeze.
---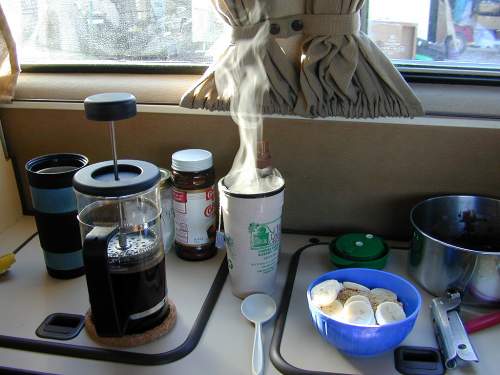 Breakfast

There is nothing like a good breakfast on the road. I have talked about our eating and cooking habits already but I really like this photo so I thought I would include it on the site. This is what makes us happy in the morning.
---
Post Two Contents
Copyright 2000
Scott & Karen Semyan