Post Two - Las Vegas
---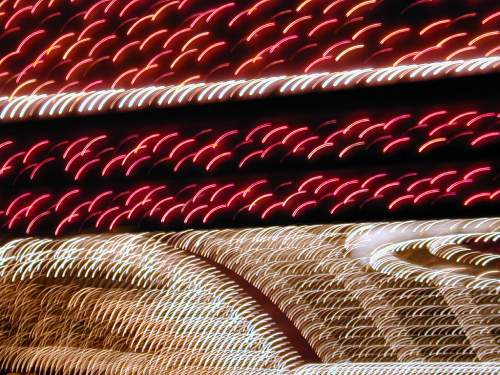 Vegas Lights

From introspective Joshua Tree we went to the grossly excessive Las Vegas. We were out of food and clean clothes and felt like we needed to start heading east. A short stop in Vegas would be the perfect chance to do some chores and experience something totally different. We stayed at the Circus Circus RV Park right on the strip. We had three pools to choose from, hot tubs, saunas, and clean bathrooms -- all for $15 per night. Also, we had access to Trader Joes, Costco, AAA and Blockbuster (for DVD rentals). It was a blur of big city life in the middle of the desert.
---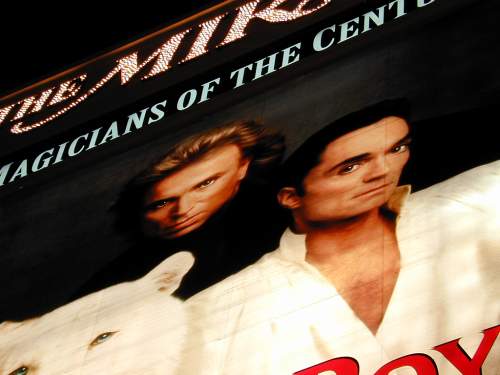 Siegfried and Roy

The last big city that we had spent any significant time in was San Francisco. Since we expected to be out in the wilds for the next several weeks we lived it up a little. We walked the strip, ate at a fantastic French restaurant (the Pampelmouse), and gawked at the people in the casinos. Being in Vegas is like drinking sweet wine - fun at first but nauseating after a while. Three days was enough for us. Siegfried and Roy symbolize Vegas to me. These two are over the top bizarre living with their white tigers in their compound-like estate - and people love them. Anywhere else I think they would be shunned by society. Here, they are stars.
---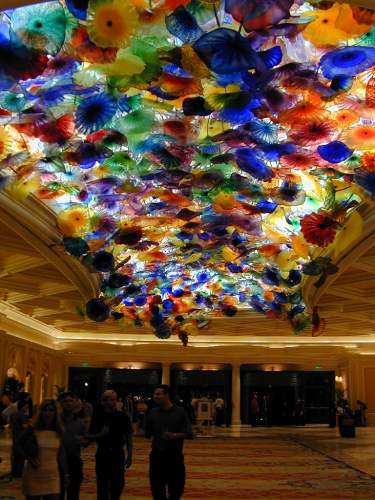 Chihuly Ceiling

Among the new casinos in Vegas is the Bellagio - currently the ritziest hotel on the strip. The pools outside reminded me of Roman villas, their art museum houses works from all the A-list impressionists, and the restaurants are all exclusive and expensive. Above the lobby is an amazing ceiling created by Dale Chihuly (a famous glass artist from Seattle). I can't imagine the cost but I must admit, it is quite impressive. The only thing detracting from the view is the crowd of gawkers like me who have no intentions of playing at the $15 minimum tables. To many people, Bellagio represents the carrot everyone is working toward. It is a quintessential display of unobtainable wealth. But therein lies the mystique of Vegas - the perception that if you are lucky, perhaps you too can obtain such wealth with the roll of the dice or the flip of a card.
---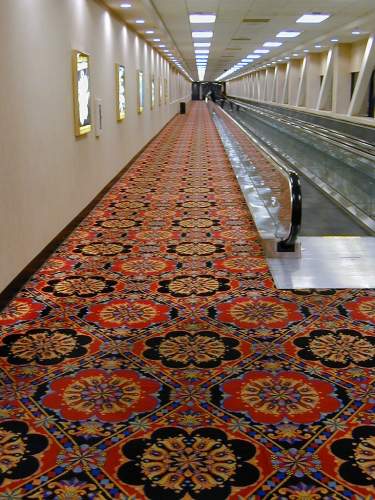 Casino Carpet

The casinos use many psychological tricks to try to keep people gambling. There are no windows or clocks in the casinos (who cares what time it is, keep playing). The slot machines spin and beep and ding enticing you to play longer (I can still hear the sounds of a hundred slots turning). The buffets are cheap and filling (don't leave when you are hungry, we'll feed you). And the carpets… I love the Vegas carpets. I have no idea who designs them but I'm sure they are full of subliminal messages to 'let it ride'. I got so infatuated with the carpets that I spent an evening photographing them in all the casinos of the strip. Once I get some time I hope to put together a separate section on them. Until then, this photo will have to do.
---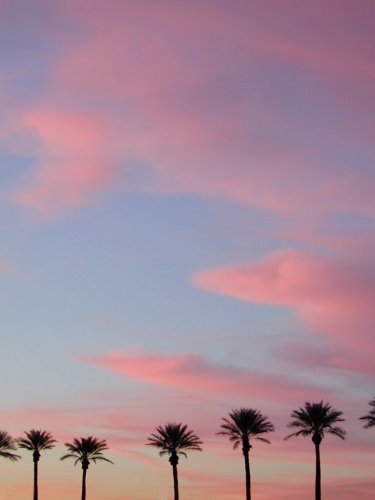 Vegas Sunset

So what brings people to Vegas? What makes them think that they can get easy money if they are lucky? Is winning $50 or $500 really that exciting? Would an extra $500 drastically change someone's life? With all of it's excess, Vegas still draws me to try to answer these questions. Other countries have gambling but only in the U. S. are we infatuated with the concept of easy money. I guess it's a part of our national folklore. People headed west to make easy money in the gold fields. Enough found wealth to keep the dream alive in others. We have had many booms - gold, oil, real estate, stocks, etc. Perhaps Vegas is a way of getting a fix while waiting for the next big oil strike, or your Internet company to go public. Lucky for us, that is the sort of psychology that produces entrepreneurs by the millions and powers our economy to be the strongest in the world -- the courage (or foolishness) to risk it all to try to make it big.
---
Next Up: Canyon Country

Copyright 2000
Scott & Karen Semyan