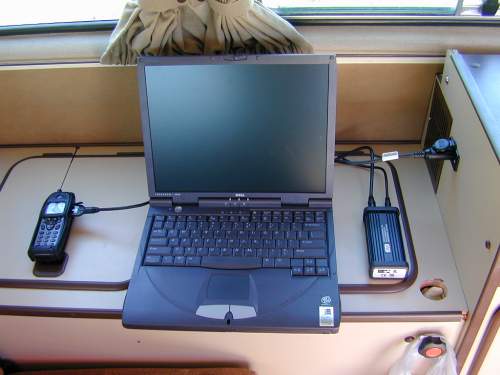 Cell Phone & Laptop

Driving a 15-year-old vehicle prone to mechanical failure, we decided to get a AAA Gold membership and a good cell phone. The AAA membership gave us someone to call if we broke down and the cell phone gave us the means to call. It also gave us voicemail so we could get messages from family and friends. Only Verizon and AT&T offered unlimited long distance and roaming plans. We went with Verizon because it was cheaper and I liked their phones better. Our phone is tri-mode meaning it can do analogue, digital, and data via CDMA. Data mode means we can 'surf the web' on the phone (which is interesting for about 10 minutes). What is more interesting is that with a simple cable I can connect the phone to my laptop and get 19 KB Internet access in metro areas. I can't emphasize enough how cool this is. The connection is virtually instantaneous and I don't need to have a separate ISP. We also have a pre-paid phone card but with 400 minutes per month on our cell phone we rarely use it. Of course the phone has a 12V adapter for recharging.

After much deliberation we decided to bring a laptop with us on this trip. Karen wanted to be able to write, and I wanted to be able to download pictures off of the digital camera. Additionally, we are able to do email, monitor our finances, and create this website. Our insurance is all paid up for the next six months and our cell phone is automatically charged to our credit card. This means our only bill to pay each month is our VISA. I pay this using an online bill pay service through our bank. In big cities I use the cell phone to connect to the Internet but when we have access to a phone line I use a free ISP to get 56 KB access. Our email is through Hotmail so we can either download it to our computer using Outlook Express or access it from any Internet terminal.

When I was shopping for a laptop, strength and reliability were more important to me than weight. This narrowed my choices to Dell and IBM. I chose Dell because I could configure exactly the computer I wanted, I had heard good things about them, and I could get a 3-year warranty. I bought a 12V adapter when I got the computer but it should be noted that this adapter draws almost 8 amps when the computer is charging and would quickly drain a normal car battery (unless the car is running). This is why I installed the Optima. For an OS, I am running Windows 2000. It has performed flawlessly from install and I strongly recommend it to anyone with a newer laptop.