Our Van - Van Life
---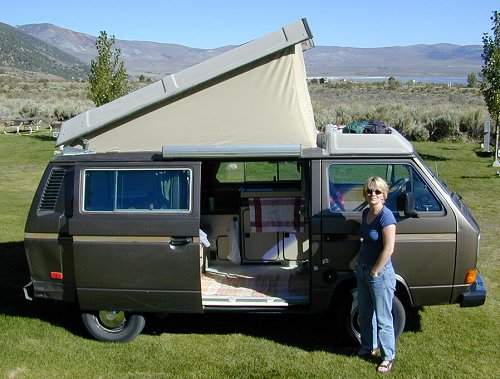 Van Exterior

For this trip around the Southwest, we knew in advance that we wanted to travel in a VW Campervan. Our last trip around the U.S. in 1992-1993 was done out of the back of a pickup truck. Then, we had little money and a desire to see as much of the country as possible. Therefore a vehicle that was good on gas (30-35 mpg) and that could be slept in anywhere (including store parking lots) was important. For this trip, we had more money and knew we wanted to spend longer periods of time parked, using the van as a base. After lusting after them for years, we bought our 1985 VW Westfalia Vanagon in 1998. Owning one is a badge of honor to us and we always wave at other 'Westie' owners we see on the road. As much as we sometimes worry about the drive train (more on that later), it has given us a freedom that few vehicles on the road can provide. Note the awning case over the door (more on that later too).
---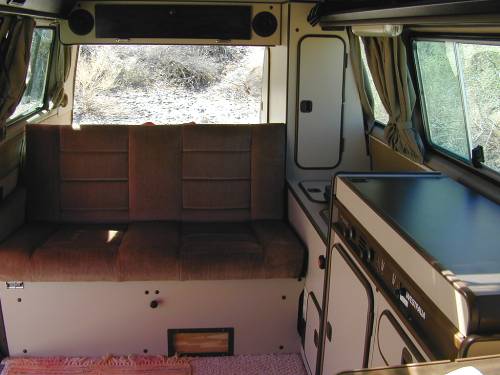 Van Interior Looking Aft

Compared with our earlier truck, the interior of our van is quite spacious. This photo shows the rear portion of the van. The back seat folds down into a bed and the side cabinet holds our bedding and bulky clothing. Extra food goes in plastic containers behind the seat and miscellaneous gear is stored in the compartments under and above. Our van came with a table that folded out from the driver's side but we left it home in favor of the front table that we can more easily store. This makes access to the compartments next to the seat less complicated.
---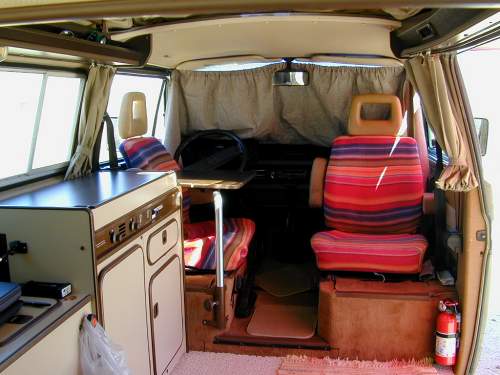 Van Interior Looking Forward

This is a photo looking forward in the van. The two front seats swivel around so that the passenger seat faces back and the driver's seat faces to the side - making all of the space in the van usable (those Germans are so clever). Note the front table -- we only set this up when cooking complicated meals or when working on the computer. When not in use, the table is stored up top. Some Westie models included a small porta-pottie that fit behind the passenger seat. I can't imagine taking up room for something like that, although we have considered having a 'pee bottle' to avoid those late night bathroom runs.
---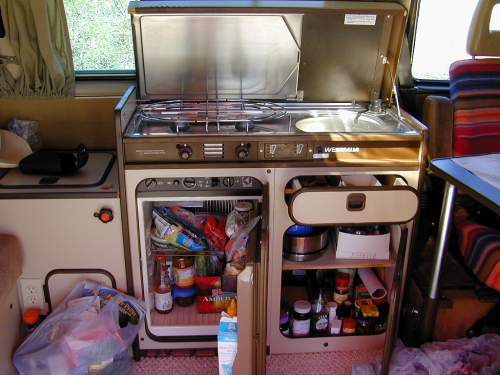 The Galley

This cluttered photo shows the galley. We have a 2.5-gallon propane tank under the van that fuels our two-burner propane stove and our refrigerator. We place a large cup (the like the kind you get at 7-11) under the sink drain to catch the gray water when we are in a regular campground; otherwise it just goes on the ground. The sink gets its water from a 15-gallon fresh water tank with a submersible pump in it. It's a beautiful thing to be able to wash dishes in a sink, let me tell you. The storage under the sink holds all of our cooking pots and utensils and our spices. When the top is up and the bed is not folded out, one can easily stand while working. This makes cooking a pleasure.
---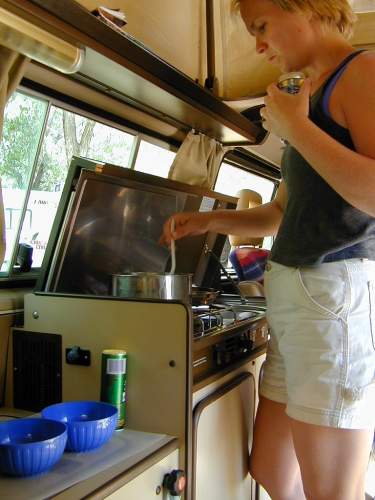 Cooking & Eating

Cooking and eating are an important part of all of our trips so it is nice to have the facilities to make interesting meals. Cooking can be a Zen-like activity and it is enjoyable to spend considerable time working on a meal. In the truck we had a single burner gas stove so we ate a lot of pasta with sauce right from the jar. Now we can make more complex affairs, making pasta or rice in one pan while preparing a sauce or stir-fry in another. We have been eating mostly Vegetarian on this trip - at first because it was hard to store meat in the desert - but now after seeing the benefits, we are trying to only eat meat on special occasions. Also, we have found that we are eating smaller portions because we are controlling how much we make.
---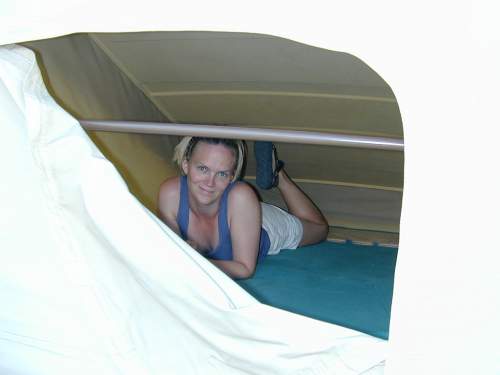 Sleeping

On this trip most of our nights are spent in organized campgrounds. For our last trip we rarely stayed in campgrounds, preferring instead to sleep for free at rest stops, deserted roads, store parking lots, etc. Now we like (and can afford) regular access to toilets, showers, and water. Since we are traveling off-season the campgrounds are rarely crowded and we generally have our pick of sites. The van can sleep 4 people - 2 in the upper bed and 2 below. If the weather is warm we like to sleep up top since it is cooler, has more space, and you can see the stars through the sunroof. If it is cold or noisy we sleep on the lower bunk (and keep the top down for insulation). I am 6 feet tall and both beds are a bit short for me. Up top, I use a board to extend the length of the bed by about a foot (otherwise, I often drop my pillow off the bed). Below, I'll rest my pillow on the plastic containers that hold our food and toiletries. This photo shows the upper bunk (taken through the front window). On this trip we have found ourselves going to bed early and getting up early (matching the cycle of the sun). Dawn can be a beautiful thing if you have had plenty of sleep and you are up because you want to be up.
---
Next: Engine & Body

Copyright 2000
Scott & Karen Semyan