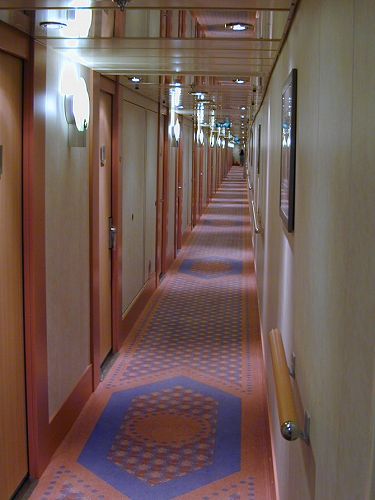 Meeting Cher In the Hallway

One night in the lounge, a drag queen performed a dead-on Cher impersonation, belting out "Believe" with her husky voice, licking her lips, and flipping her dark, curly mane as if channeling the diva. I found out later that Cher wasn't even a hired performer, just a passenger roped in by the staff.

For days, I kept my eyes peeled for the "he" side of Cher. I scouted the ship for a younger men with dark curls, prominent noses, generous mouths, skinny butts, and long legs. Nothing.

Then one day, I stepped out into the hallway just as an attractive, short-haired blond man was walking by in a fashionably baggy gym suit. A shipwide announcement describing the midnight buffet was just ending. He smiled at me wistfully and said in a husky, slightly drawling voice, "It's too bad this cruise is almost over. I just want to keep on eatin'!"

That voice. I tried not to stare as he passed by. The nose, the eyes, the skinny butt. Finally, I had found Cher.