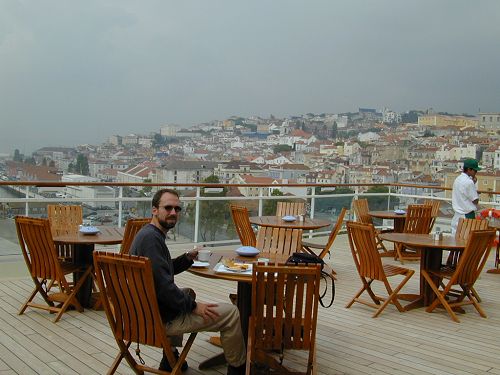 Breakfast in Lisbon

After Funchal, I wasn't too excited to walk around Lisbon with just a few hours to see the city. Besides, it looked like rain. But the ship was starting to feel like a gerbil maze, and Scott convinced me to venture out.

To fortify ourselves, we ate a late breakfast on the stern deck. On the way inside for more coffee, I passed a man in a wheelchair going outside with his wife. They were gone when I returned to the table just a minute later. Scott asked if I had noticed them, then told me this story. The wife had wheeled her husband over to the railing, where he had taken a long, slow look around. Then he turned and said, "OK, I'm done. We can go back in now."

Walking around Lisbon in the rain felt like a treat after that.