Post Five - Mexico City
---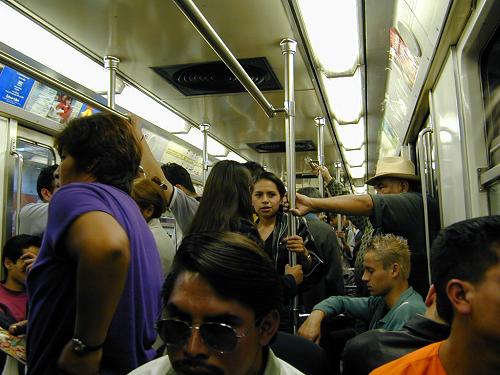 Mexico City Subway

After a week in Oaxaca, we returned to Mexico City. We originally had plans to travel all the way down to Panama, but it was nearing the end of February and we wanted to be in Europe by May. Two months sounds like a lot of time to get to Europe but the way we travel it ended up being just enough. We stayed in Mexico City for a week. While we were there we finalized our plans on getting to Europe, saw some sites, and even went shopping. I bought two suits and three ties. Seriously. Everyone talks about how horrible Mexico City is but we really liked it. To me it resembles what New York must have been like in the 30's - cosmopolitan but a little rough around the edges. You need to be wary, just like in any other large city around the globe, but it is not, in my opinion, excessively dangerous. We even rode the subway without mishap as this photo shows.
---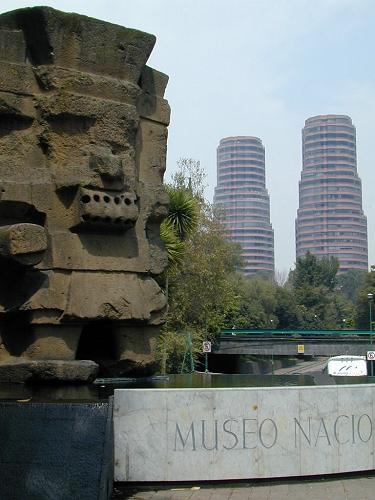 National Archeology Museum

This is a photo taken of a statute in front of the justly famous National Archeology Museum in Mexico City. In the background are some more recently erected monuments (apartment buildings).
---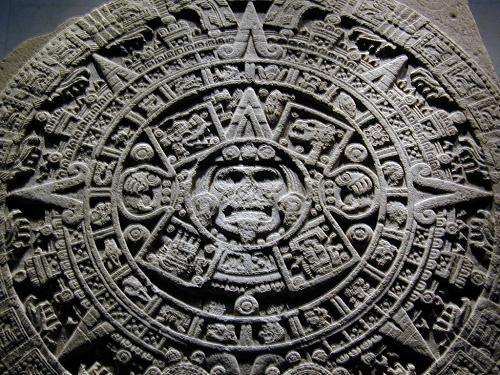 Calendar Stone

This is the famous Aztec Calendar Stone from the National Archeology Museum. This stone is 12 feet in diameter and was really three calendars in one: solar, lunar, and sacred.
---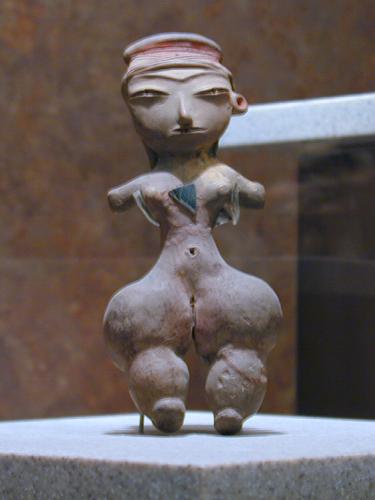 Fetish

Karen loved this little statue from the Archeology Museum so I took a photo of it for her.
---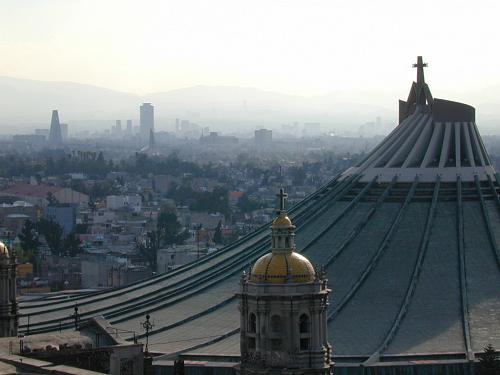 The Virgin of Guadalupe

According to the "Our Lady of Guadalupe" website, In 1531 a 'Lady from Heaven' appeared to a poor Indian at Tepeyac, a hill northwest of Mexico City; she identified herself as the Mother of the True God, instructed him to have the bishop build a temple on the site and left an image of herself imprinted miraculously on his cloak. Today, the temple at this site is one of the largest in the world and is the second most visited Catholic Church next to the Vatican. This is a view of the main cathedral from the hill upon which the virgin appeared. That's smoggy Mexico City in the background.
---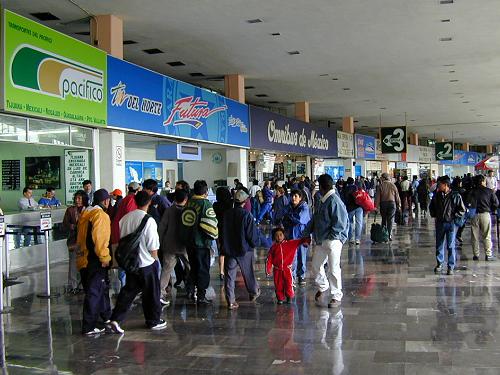 Bus Station

This is a view of the north bus station in Mexico City. From here buses leave 24 hours a day for all parts of Mexico and even the U.S. During our stay we covered almost 6,000 Km by bus so we got to know this impressive system pretty well. When you want to go somewhere, you head to the bus station with your luggage, walk around looking at the signs at each ticket window that displays where and when the busses are leaving and then buy your ticket right there. There is no "advance purchase, Saturday night stay required" thing here. As I've said before, the busses in Mexico were clean, efficient, and inexpensive. It's the best way to see the country in my opinion.
---
Next Up: Guanajuato & Zacatecas

Copyright 2001
Scott & Karen Semyan