Post Six - Texas to Boise
---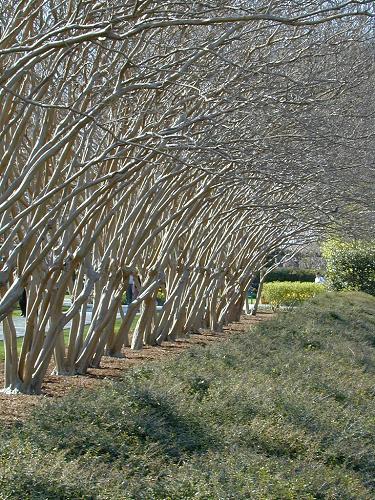 Texas Trees

Within hours of arriving in Corpus, the van was out of storage, the cell phone was charging, and we had both taken luxurious, hot showers at Kathy and Jerry's condo. We met Scott's cousin Phyllis for a dinner of fish and chips. Later that night, Scott said, "Hey Karen, watch," and downed an entire glass of water from the tap. I laughed. We were definitely not in Mexico anymore. The next day we were off to Dallas on the open road, listening to U2, the Counting Crows, and Macy Gray.
---
Tulip in the Sunshine

Have you ever been in a moment and known you will remember it forever? That day, white-pillow clouds floated lazily across the dazzling blue sky, carried on a light breeze that blew through the van windows. We whizzed by rolling green fields carpeted in Texas bluebonnets. Scott's fingers tapped a rhythm on the wheel, his face utterly relaxed except for the smile that gently lifted the corners of his mouth. His eyes reflected the sky. As I listened to the strains of "Beautiful Day" by U2, I thought to myself, "It sure is."
---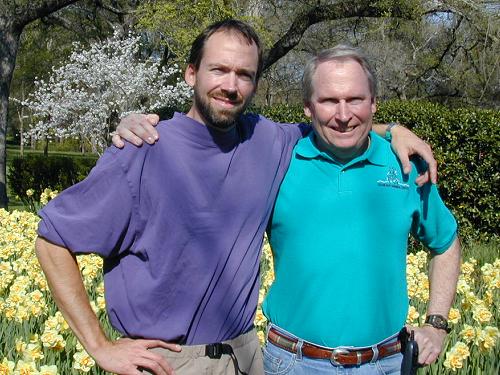 Scott and John at the Arboretum

In Dallas, we spent two days sharing travel tales, foofy martinis, and delectable Thai food with Kathy and Jerry, then headed up to John and Kim's. That week, Kim's culinary skills and John's wine picks kept us up late over dinner more than once. Scott inspected the van and decided the ailing CV joint would hold out until Boise, while I scoured the inside. We spent afternoons relaxing, running errands, and we even visited the Dallas arboretum.
---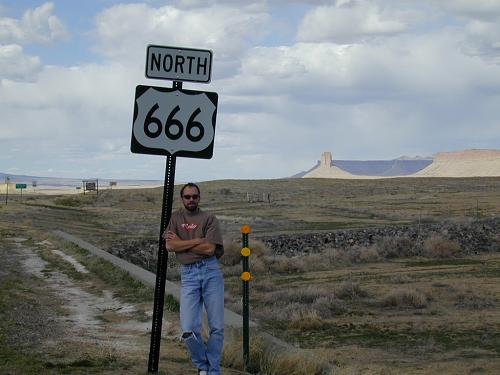 Highway to Hell

The drive to Boise was fast and fun. We headed through Lubbock, then passed into northern New Mexico. At Gallup, we turned onto highway 666 and drove north to the Four Corners area. This is one of Scott's favorite road signs in the U.S. I think it reminds him of AC/DC and his reckless youth.
---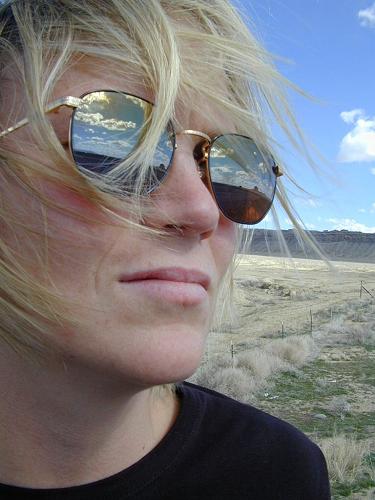 Southwest Sky

Southwest Colorado is a gorgeous area neither of us had seen before. As the van cruised along, the Lower Rockies peaked out over lush green hillsides where horses coaxed their foals into tentative first steps. Soon we were on the familiar roads of southeastern Utah, passing through towns with Book of Mormon names like Moab and Heber, gawking at seemingly endless red and orange rock formations and open sky.
---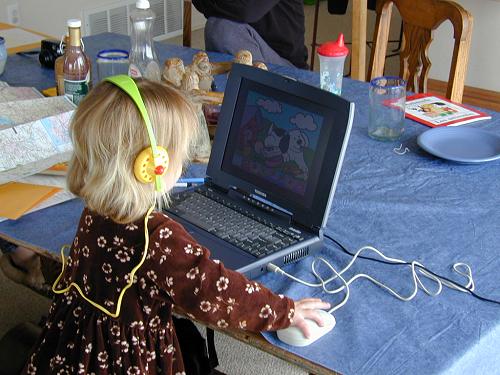 Molly Hanrahan, Super Genius

The snow-covered Wasatch Mountains form a stunning backdrop to the valley that stretches out from the back deck of John and Maura Hanrahan's home in Park City, Utah. A day spent together walking in the foothills and hanging out was the perfect rest before our final leg into Boise. Watching their daughter Molly deftly manipulate a mouse while playing a computer game was amazing.
---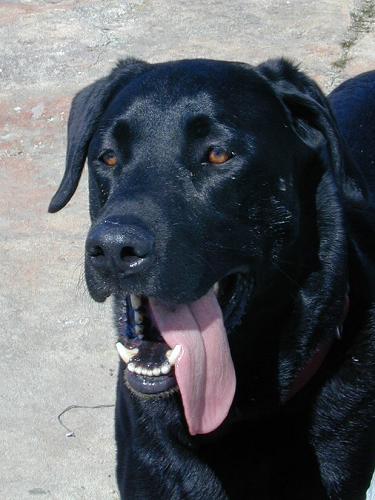 Mr. Pico P. Puppy

The anticipation built as we drove past familiar signs on the highway just east of Boise. It was wonderful to see my parents walk out the front door as we pulled into the driveway at their house. Mom and Dad look great. Julia and Matt have finished their new house, and Sarah and Jordan are settled into theirs. Jordan digs school; Kevin likes his job. Unfortunately, we took very few pictures while in Boise. This one of Pico shows he's as happy as ever.
---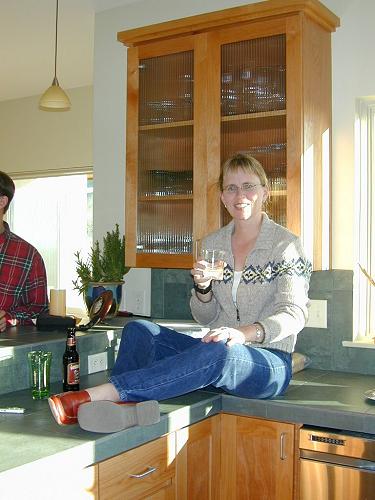 Julia, Gourmet In Repose

That week, packing for Europe was a high priority, but so was having fun. Scott won some serious small change at a poker night with my brother-in-law and friends. Mom and I rearranged Sarah's living room, Julia and I reorganized her office, and we did lunches. Dad and Matt brewed beer while everyone sampled the latest batches. We visited our friends Kira and Todd Hurt and their little ones Connor and Allie. And of course, we enjoyed lots of cooking, with elaborate breakfasts and dinners accompanied by good wine.
---
Next Up: Seattle to Kalamazoo

Copyright 2001
Scott & Karen Semyan