Post Seven - Bermuda and Funchal
---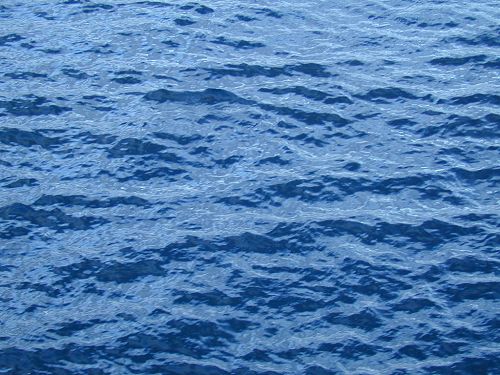 Blue Water Sailing

(Scott's Comment) There is nothing quite like the look of the ocean once you are out to sea. It takes on a bright blue color that seems fake. Also the air smells different. It's hard to explain. You only notice it when you come close to land again and the smell changes. People who have spent a lot of time at sea will know what I mean. Although this trip was quite different than any oceanography cruise I took part in, it was fun to finally share the experience of being on the open ocean with Karen.
---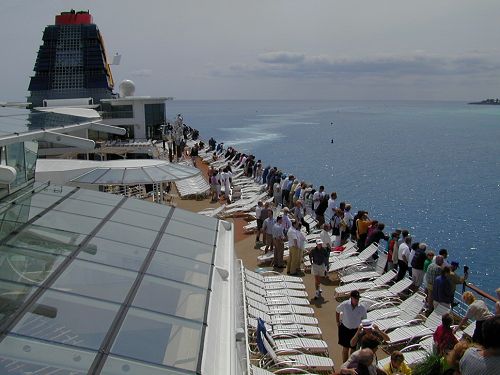 Heading Into Port

We'd made it three days, and the ship was still afloat. I have a serious fear of deep water, and I was ecstatic and relieved to dock in Bermuda. "OK, I can do this," I thought.

We headed into town to meet our friends and walk around a bit. I noticed men wearing sports coats with shirt, tie and…shorts and knee socks. It took me a minute to connect the shorts with the locale, and then…ah-hah! Bermuda shorts. The fashion is to match knee sock color to your jacket, whether it's navy, cherry red, Kelly green, or rhubarb. They looked a bit like oversized British schoolboys.
---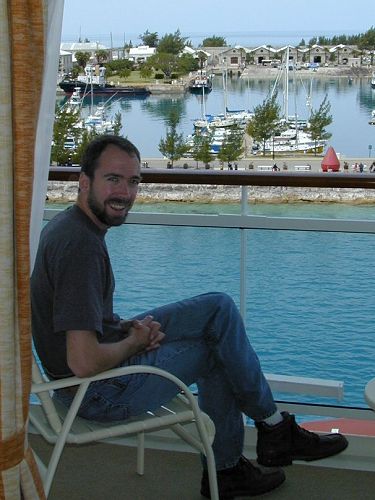 Chilling on the Veranda

Bermuda combines British order and ostentatious wealth against a lush, semi-tropical palate. As an offshore banking center, the nation attracts professionals from all over the world. Its seclusion, beauty, and mild climate make it attractive for the rich and famous looking for privacy. The native people have watched their land values soar to the point where many don't even live there anymore; they rent out their homes for $10,000 or more a month and live on the mainland off the income.

Written and unwritten rules dictate everything from how many cars you can own to what colors you can paint your house. Even though tourism is a major industry, visitors can't rent a car on Bermuda. According to our friend Jan, bureaucratic errands like getting a resident's driver's license can turn into epic adventures, too. The speed limit everywhere on the island is 35 mph.
---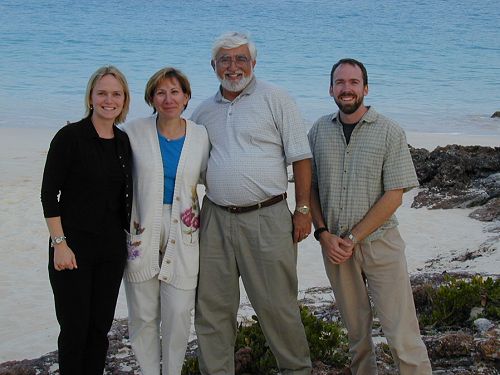 "Just Our Little Neighborhood Beach…"

People onboard looked surprised when we told them we were going to visit friends in Bermuda. With just 56,000 residents on the island, you're more likely to know someone from Kalamazoo than Bermuda. Hmm. Maybe that's a bad example. But I can't think of a better one right now.

Jan and Walter Mercer showed us around, including their house overlooking a bay. We laughed when they told us this gorgeous, deserted stretch of white sand in the picture was their local beach.

We skipped dinner on the ship and hit one of their favorite restaurants, where every item on the menu read like a run-on sentence. My appetizer of pan-seared sea scallops in a sweet balsamic-rum glaze with chopped mango (12 words, no verb) was very Bermudian-- creative, showy, expensive, and delicious.
---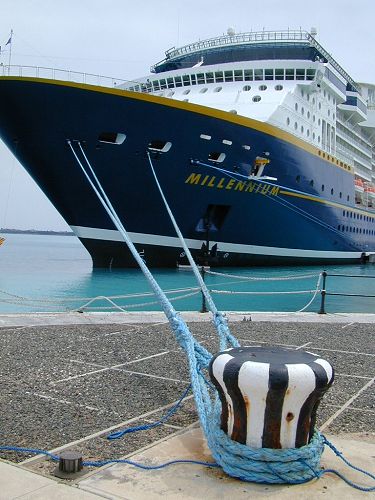 Hull of Millenium

It was nice to be tucked up safely against a dock. But that made it all the more thrilling when they pulled back these ropes and the ship moved away from the dock. At this point, we were in for five days on the open ocean.
---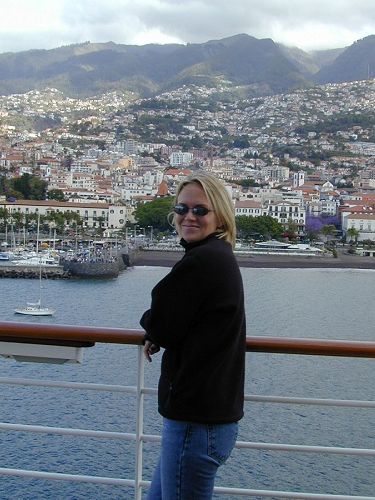 Funchal

The island, also known as Madeira, is a Portuguese possession that lies off the coast of Africa. I was always glad to spot land. At this point, we were technically in Europe.
---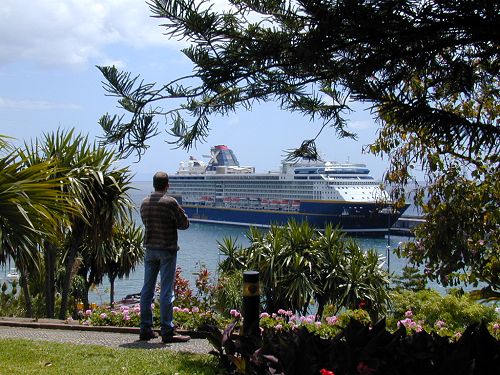 Don't Mind Us, We'll Just, Uh, Park Here On This Pier…

Scott and I were both amazed and a bit mortified each time we looked toward the harbor and saw the Millenium dominating the view. It was so massive. And it's an incredible piece of modern engineering. I can see why some locals have a love-hate feeling about cruise ships. In a way, though, cruise-ship tourists are the best kind. They stop in for a couple of hours, shop and eat in restaurants, and then get back on the ship and leave.
---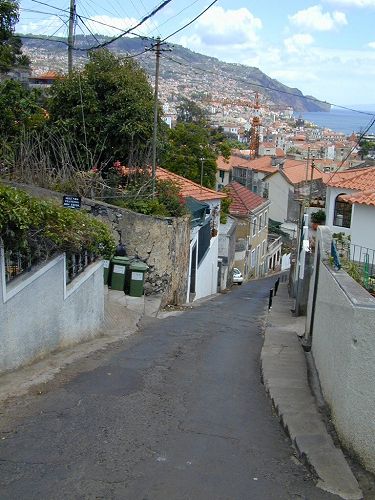 Walking Funchal's Backstreets

With just a few hours in port, we didn't have much time to see things. We tasted Madeira wine (sweet like sherry) at Blandy's, a British Madeira house, and walked the backstreets.

Pulling out of Funchal, we both decided that the ports of call were a little bit problematic. Without a doubt, each stop was lovely. But we didn't have enough time to see much on our own, and the ship's guided tours by bus were expensive--as much as $150 per person. With only a few hours, all you could really do was shop. And we didn't want to do that. I guess I've been spoiled by my travel experiences. I just want more time than an afternoon to get to know a place.
---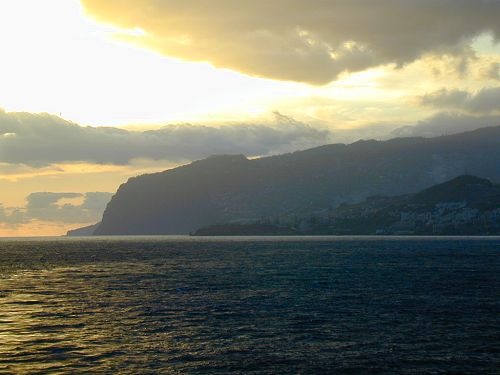 Funchal at Sunset

Sometimes, the ports were more romantic perched on a teak railing, watching the sun go down.
---
Next Up: Lisbon and Malaga

Copyright 2001
Scott & Karen Semyan