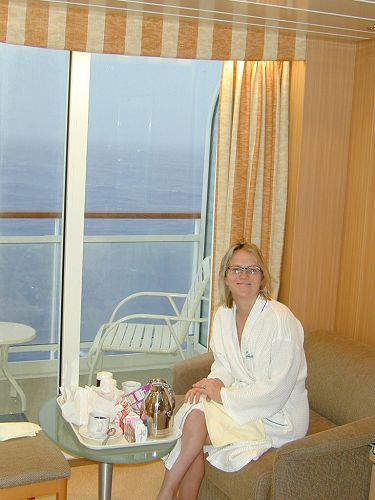 It Was Only Raisin Bran, But…

It was delivered! Have you ever seen someone look so giddy over a room service breakfast of cereal, rolls, juice, and coffee? During breakfast, we usually perused the daily newsletter for activities. If you were bored on this cruise, it was your own damn fault.

Depending on the day, you could attend a lecture on using forensic techniques to study art, the Spanish civil war (given by a former British ambassador to Spain), or cruising the inland waterways of England. You could take classes in watercolor, Spanish, computers, napkin folding, acting, ballroom dancing, or vegetable carving. There were culinary demonstrations, Alcoholics Anonymous meetings, church services, and movies. You could play bridge, bingo, darts, mah jong, shuffleboard, or even try some putting. Of course, you had to get up before 11 in the morning if you wanted to do all this (as we found out).