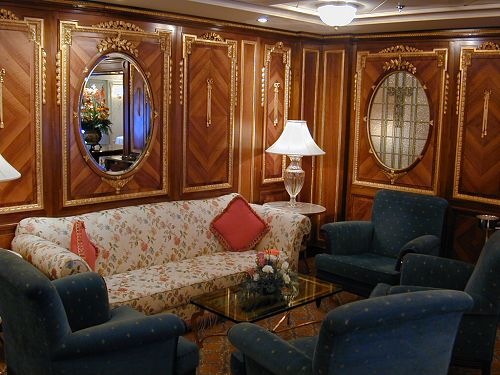 The Olympic: Titanic Romance, Without the Iceberg

I tried to avoid the topic of the Titanic, I really did. I didn't want to dream about the movie's sinking scene while in the middle of the Atlantic. But it was futile. People talked about it at meals. The string quartet played the movie's theme during dinner between Mozart and Bach. And then there was the Olympic.

This gourmet restaurant is patterned after the exclusive first-class dining rooms on the Titanic and its sister ship, the Olympic (which was retired in the 1950s). From the décor to the dessert, everything is designed to emulate the experience passengers had back then. The entire place seats only 130 people (tiny for a cruise ship), and it requires reservations. The paneling in the restaurant (shown in this photo) adorned the Olympic's first-class restaurant in its heyday. The tables are set in the style of the original restaurant right down to a replica of the Olympic's china.

Our five-course meal lasted about three hours, and the chefs only began preparing each dish after we ordered it, including pastries. The Steak Diane was seared at our table over a small flame. We drank Burgundy.

In one corner, a violinist played classical and jazz pieces. At one point, I requested "Satin Doll," hoping for a Stephan Grappelli-styled rendition. The musician read my mind. Scott and I toasted him, sat back, and listened.