Post Four - Guanajuato
---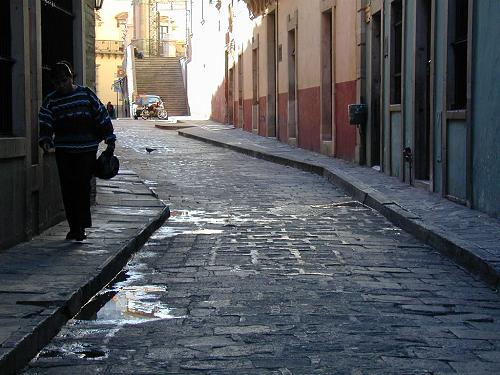 Calle Truco

After a week in Pie de la Cuesta we returned to Mexico City where our friends caught flights back to the U.S. One of our goals for this trip was to study Spanish in preparation for our journey to Spain in May. After researching schools on the Internet, we decided to spend our time in Guanajuato, four hours north of Mexico City. Formerly a mining settlement, today Guanajuato is a university town that looks more like Europe than Mexico. During the time when Guanajuato was one of the largest silver producers in the world, the wealthy mining barons filled the city with cathedrals, plazas, theaters, and mansions. The buildings and plazas remain but the mansions have been converted into hotels, shops, and restaurants. This is a view looking down a side street next to the cathedral.
---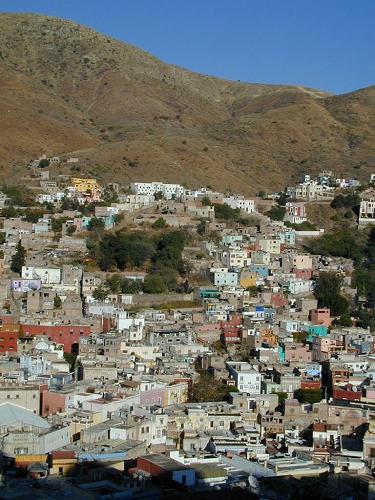 Vista

Guanajuato sits in a small valley surrounded by the hills where the mines used to be. Guanajuato is fairly small and you can easily walk the length of town. There are also extensive trails that go through the hills above town and there is even rock climbing to be found nearby. As you can see, most houses have nice views of town. Our apartment (roughly in the center of this photo, half way up) had a fabulous view.
---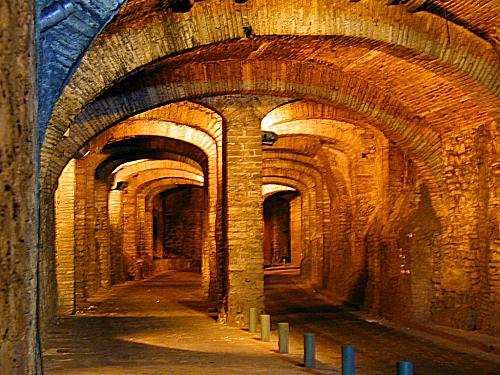 The Subway

The streets of Guanajuato are narrow, cobble stoned, and mostly traffic free - making them perfect for pedestrians. Most of the vehicles travel under the city in tunnels originally built to contain a river that ran through town. After the river was diverted, the dry riverbed was paved and used as a road. More tunnels were built and now there is a maze of routes under the city. The tunnels twist and turn underground and I am always surprised where we pop up when we travel by car or taxi.
---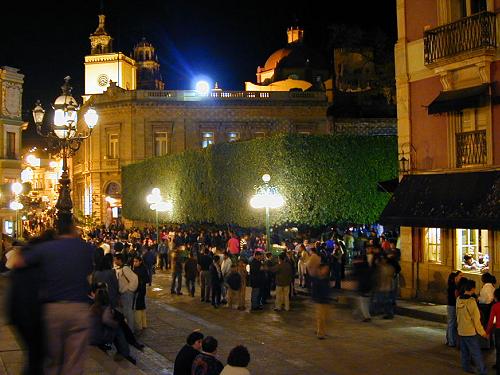 Nightlife

The nightlife in Guanajuato is some of the best in Mexico. Because of the university, there is a large population of students, artists, and other cultural types who like to have a good time. The city hosts plays, concerts, movies and festivals of every kind so there is always something going on. On the weekend we usually started our evening with dinner or drinks in the Jardin (the main plaza, pictured in the photo) with friends from our language school. Around 11pm we would head to the salsa bars (the dance, not the food), which didn't really start rocking until around 2 in the morning. Saturday mornings were always quiet around town.
---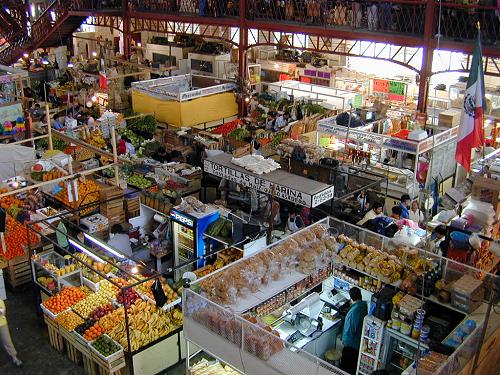 El Mercado

When we were in Guanajuato, we rented a small, one-bedroom apartment with a large bathroom, living room, and kitchen. We had our favorite restaurants in town but we liked to practice our cooking skills too. In Mexico, you often buy groceries every day or every other day. The baked goods and fresh tortillas are fabulous but they only last a day or two. When we needed supplies we would head to the market to get fresh fruit, cheese, tortillas, and occasionally meat - all from separate vendors. This was good practice for our Spanish and it was always fun seeing what was for sale in the market that day.
---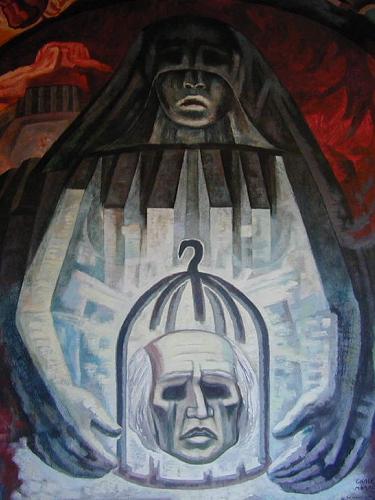 Hidalgo

It seems every town in Mexico is full of historical sites and Guanajuato is no exception. Miguel Hidalgo, the priest who started the Mexican Revolution in 1810, was born here in 1753. Today, people travel from all over Mexico to visit the granary in Guanajuato where Hidalgo and his troops overran the Spanish garrison. Hidalgo was later executed for this act and his head was hung in a cage outside the garrison as a warning to others thinking of revolt (as documented in the mural pictured). It was too late, the revolution had started, and Mexico was on its way toward independence.
---
Next Up: Guanajuato Culture

Copyright 2001
Scott & Karen Semyan