Post Four - Pie de la Cuesta
---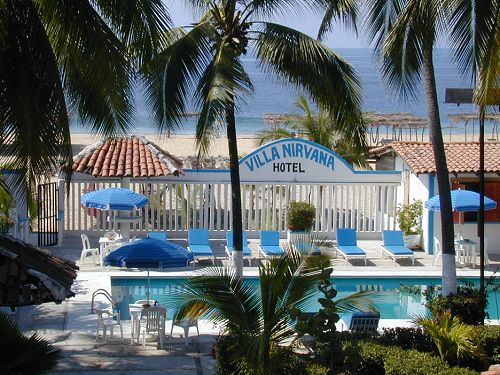 La Villa Nirvana

After the bustle of Mexico City, we were looking for quiet place where we could relax, enjoy the sun, and pretty much do nothing. Pie de la Cuesta is a small town 10 KM northwest of Acapulco containing only a few hotels and restaurants, a small market, and a long empty white sand beach. We found a promising hotel in our Lonely Planet guidebook and after a 4-hour bus ride from Mexico City and a 20-minute taxi ride from Acapulco, we found ourselves on the grounds of La Villa Nirvana.
---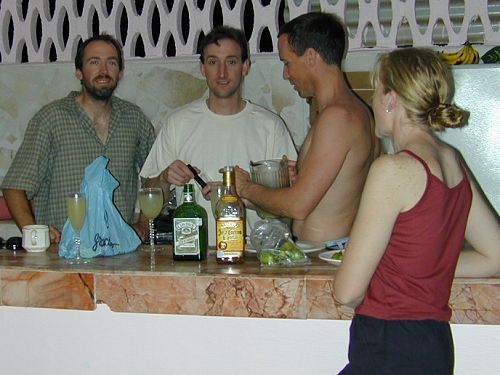 Our Room

At La Villa Nirvana we had a spacious two-bedroom apartment with a huge terrace that had two hammocks, a table and chairs, and a kitchen. We spent a good deal of time on the terrace relaxing in the hammocks, making food, or, like in this picture, mixing drinks. As we had hoped, there was little to do in Pie de la Cuesta so we got a lot of reading done and had plenty of time to catch up on each other's lives.
---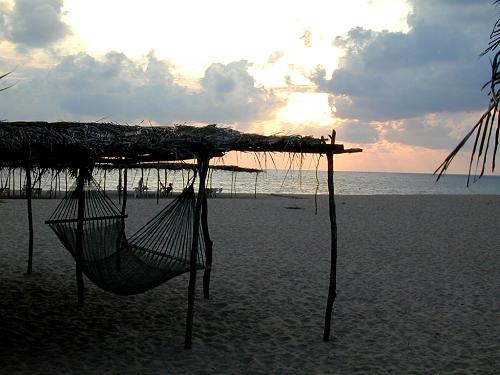 La Playa

The beach in front of our hotel had miles of empty white sand. Unlike in the resort areas, there were few wandering vendors so we pretty much had it to ourselves. During the day we would lie in the hammocks in the shade of the palapa huts sipping beer and watching the waves crash on the sand. It was very stressful.
---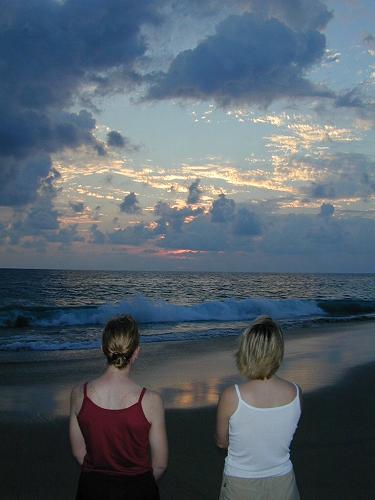 Puesta del Sol

This area of the coast is known for beautiful sunsets because of the unobstructed view over the Pacific. In the evenings we would stand out in the sand and watch the sun sink below the horizon before returning to our villa to decide what to make for dinner. In this photo, Alisa and Karen enjoy the show.
---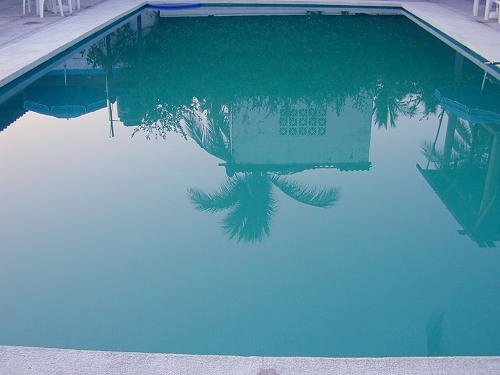 La Piscina

The waves in Pie de la Cuesta crash quite dramatically on the beach making swimming in the ocean a bit treacherous so during the heat of the day we cooled off in the pool. This was also a good place for studying our Spanish books and enjoying a refresco. This photo shows a reflection of a building next to our hotel on the surface of the pool.
---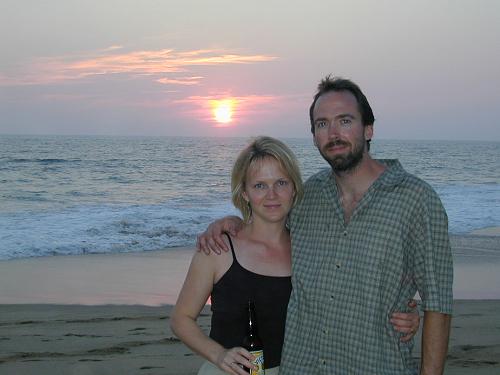 Nosotros

This is a shot of Karen and I during a Mexican sunset. It looks like we are learning how to relax.
---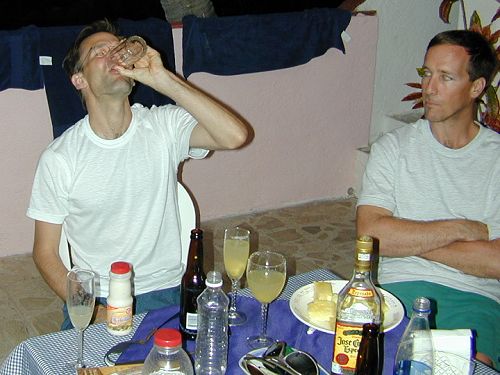 íSalud!

There were plenty of festivities to keep things lively during our stay on the beach. One night Robert challenged Matt to some tequila shots. Matt was up to the task and Robert found himself in the unpleasant situation of having to make good on his part of the challenge (despite the fact that he was still recovering from a stomach ailment he picked up in Mexico City).
---
Next Up: Guanajuato

Copyright 2001
Scott & Karen Semyan