Post Four - Mexico City
---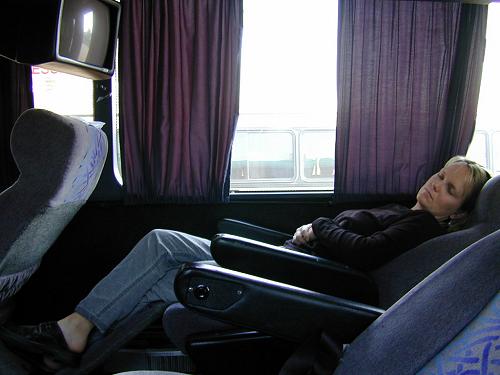 Mexican Buses

For our travels in Mexico, Karen and I decided to leave the van in a garage in Texas, and use buses to get around. The bus system in Mexico is more widespread, more efficient and certainly more affordable than the airline industry in the United States. There are three classes of bus service; second-class which is pretty rustic, first-class which is the quality of your average greyhound, and executive-class which is a super deluxe service with movies, drinks, and wide seats that fold into beds. For the first leg of our journey we traveled from the border town of Matamoros to Mexico City - a 14-hour trip. We opted to take an overnight executive-class bus, allowing us to get some decent sleep. We awoke in the heart of Mexico.
---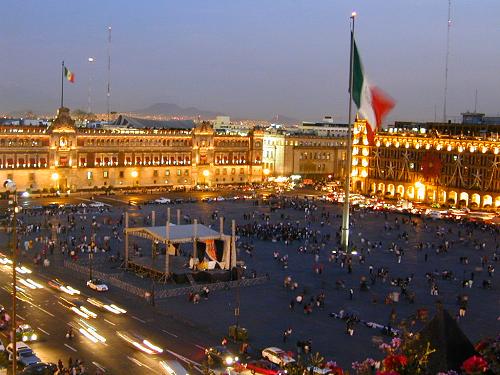 Zocalo at Night

In Mexico City, the wonderful shock you get from traveling to a different culture quickly set in. Suddenly, the new sights, smells, sounds and tastes of one of the largest cities in the world surrounded us. We spoke almost no Spanish and full of warnings about crime in the city, we approached with caution. It is said that people either love or hate Mexico City. The crowds, the noise, the sprawling markets, and the endless buildings turn many people off. Karen and I were fascinated. We left the U.S. because we wanted to see something different. Walking through the Zocalo at dusk that first night I thought to myself "we came to the right place."
---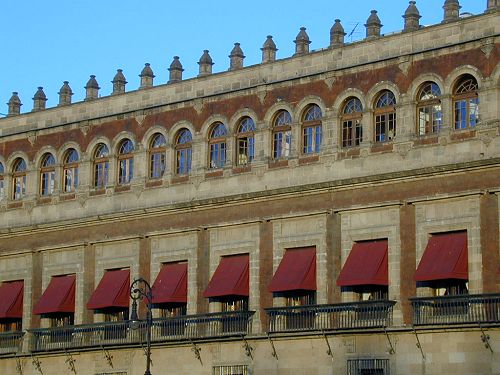 Palacio Nacional

While waiting for our friends from the states to fly in, we explored the streets and plazas of this vibrant city. I'm amazed that Mexico is so close to the U.S. yet so few Americans visit. I guess many believe Mexico to be a dangerous place where you will get robbed and the food and water will make you sick. Like anywhere else in the world, you need to be sensible about where you walk at night and the cleanliness of the food you eat, but in general Mexico is probably safer then most of the U.S. Before our trip, people told us stories of horrible things that happened to Americans while in Mexico. Now when I hear such stories, I smile because this means Mexico will remain a hidden gem for a while longer until Americans discover the truth. When they do (and slowly, they will), the Mexico you find today will be changed forever. This photo is of the Palacio Nacional, the seat of the government of Mexico.
---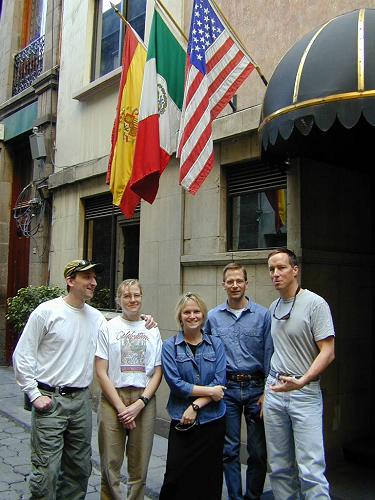 Friends

In Mexico City, our brother-in-law Matt and friends from Seattle and Boise joined us. Since leaving Seattle in August, we've traveled mostly by ourselves so we were thrilled to have someone else to travel with for a while. Pictured from left to right are Greg, Alisa, Karen, Robert, and Matt standing in front of our hotel (the San Antonio) in the historic district in Mexico City where we paid $7 US per person per night.
---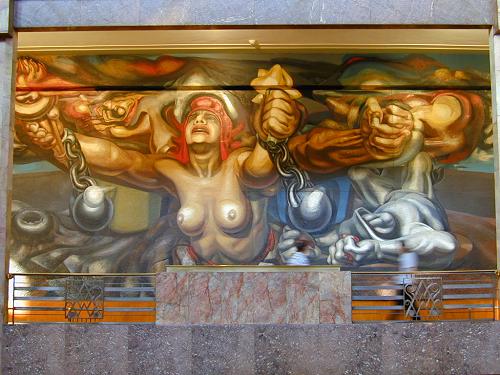 Nueva Democracia

Mural paintings are very popular in Mexico and can be found in many government buildings around the country. They usually show scenes from Mexico's violent past and are like illustrated history lessons. These murals also tend to show the political and social beliefs of their artists - sometimes hidden in small details - giving a unique glimpse into the mind of the painter. The mural pictured is called Nueva Democracia, and was painted in the Palacio de Bellas Artes in 1944 by David Alfaro Siqueiros. It's about 15 feet high and quite impressive to see in person. The blurs in front of the mural are people walking by.
---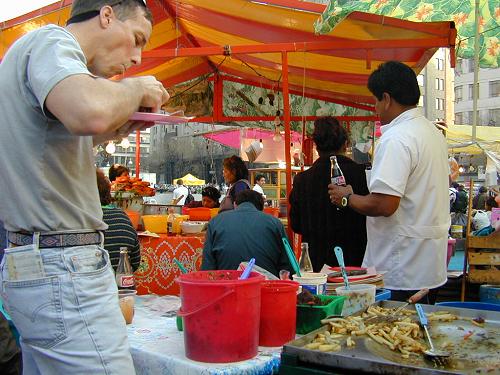 Street Food

Some of the best cooking in Mexico is found on the streets in little stalls and the food is usually fresh, fast, and cheap. The first time we visited Mexico in 1992, we were afraid of eating anywhere outside of a regular restaurant. It didn't take us long to get more adventurous and near the end of that trip we were eating just about everything we found that looked tasty. For this trip, we dove right into the street food. We have had a few stomach problems and we now judge the cleanliness of the food by how popular the stall is. The times when we have gotten sick were mostly when we ate at tourist-oriented places shunned by the locals. In this photo Matt is enjoying a Gordita - a fat corn tortilla filled with meat, cheese, and vegetables. These stands can be found all over Mexico and are open late into the night.
---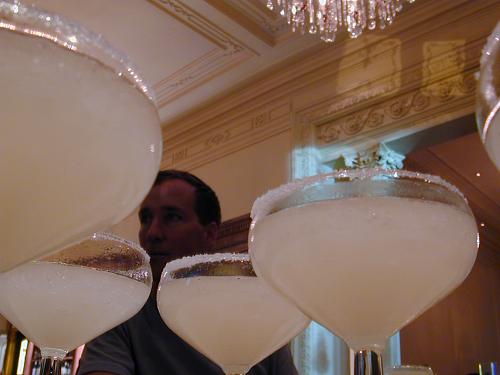 Margaritaville

The food is great in Mexico and so are the things to drink. During the day we would stay hydrated by buying bottled water, refrescos (pop), juice, or agua fresca (kind of like watered down juice - very easy to chug). Right outside our hotel in Mexico City was a juice bar where you could get a large glass of freshly squeezed orange juice for less then a dollar. More exotic juices were available too and I grew fond of a banana liquado every morning. In the evening there are other things to drink like cerveza (Negro Modelo and Bohemia are my favorites), margaritas, and, of course, tequila. At the bar in this photo, we are enjoying happy hour where the drinks were two for one. In Mexico, this means if you order a margarita, they bring you two rather then simply charging half price. Somehow, we didn't seem to mind.
---
Next Up: Pie de la Cuesta

Copyright 2001
Scott & Karen Semyan